Baked Chicken Recipes
Who doesn't like Baked Chicken Recipes?!
Because that's all you'll find here.
Wonderful, Delicious, Mouth Watering ones at that!
---
---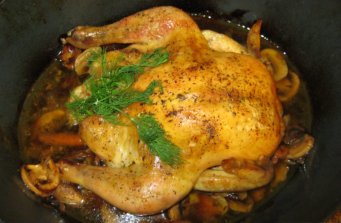 The aroma that fills your home when you have a fresh, tasty chicken in the oven can spark many happy memories of special occasions.
It's healthy, as well, because baked chicken does not contain a lot of fat. And it's not really necessary to have a special occasion to prepare a baked chicken with, say, potatoes and salad of your choice.
Besides being very easy to prepare, you'll have some time to do other important things around your kitchen and home when you have a chicken baking in the oven - like bossing your chef around.... :)
So make a choice - and get baking!
But first....!
 

Share Your Baked Chicken Recipe!
Do you have a great story about your recipe too?
I'd love to hear about it!!
And Thank You for sharing!
In the mean time, remember this: Baked Chicken Recipes are perfect for any occasion.....or any oven!
You'll definitely want to check these baked chicken recipes down below! I know my Chef wants you to....
Chicken Chorizo Recipe
What am I doing making fake chorizo recipes? Read it and find out for yourself all about it!
Chicken Kabobs Recipe
What does my Chef's think about my kabobs? Click here and find out for yourself!
Baked Chicken Legs Recipe
What's so special about chicken legs? I love simplicity and fresh homemade meals!
Chicken Cabbage Rolls Recipe
Find out why my Chef is curious about this recipe!
Lemon Rosemary Chicken Recipe
With a baking recipe like this, something special's going on in your house!
And your family and friends will know it too!
Chicken Marinara
Chicken Marinara is one of my favorite types of marinara recipes! So imagine my happy surprise when I received this recipe from my sister-in-law!

Baked Honey Mustard Chicken
This baked honey mustard chicken dish is one that you will be preparing often. Why? Find out!.....

Spinach Pesto Chicken
This pesto chicken recipe is always a great idea and just the thing for the entire family! Why?
Roasted Chicken with Peppers
Who doesn't like a roasted chicken recipe? With peppers?? No one I know! Certainly not my (big) Chef!
Chicken And Cheese Recipes With Mushrooms
My Mom is Special! So what happened..? I called her last Sunday. She asked me what I'm cooking? I told her...
Chicken Drumsticks with Honey and Nuts
You want easy? With my chicken drumstick recipes, you need look no further!
Apple Stuffed Chicken Breasts With Sage
Why not?! There's hundreds of ways to do chicken! Apples stuffed chicken breasts with sage is the perfect recipe to try out.
A Chicken Drumstick Recipe!! For You? For Me? My Chef?
Do you think this chicken drumstick recipe could be for you? I'll bet you're like me!
My Rotisserie Chicken Recipe
This plentiful recipe is perfect for a large, summertime gathering.
Chicken Cordon Bleu Recipe
A recipe sure to generate a fervent response!
Tandoori Chicken Recipe
This baked chicken recipe is another delightful change from the ordinary - read more!
Baked Chicken Wings With Goat Cheese
This baked wings concoction will shock you! Find out why!
Chicken Stew Recipe
This wonderful stew recipe is perfect for the family dinner - find out why.
Chicken Pasta
This fast and very easy pasta recipe is perfect for busy people.
Roast Chicken Recipe
Aromatic and crispy chicken? No problem... when youre having this roaster!!
Stuffed Chicken Recipes
Stuffed Chicken Recipes are a lovely idea to surprise your family with, especially if there's no special occasion!!
Garlic Chicken Recipe
I love delicious baked chicken recipes like this! I hope you will too.
Baked Chicken and Stuffing
This stuffing recipe is absolutely perfect for large gatherings because it's so easy!
Chicken Rolls and Mushrooms
This delectable dish will really please your family and friends.
Chicken Divan Recipe
This divan recipe is perfect if you have leftover chicken.
Coffee Chicken Recipe (For Anthony!)
This recipe was a shock for me!
Parsley Chicken Recipe
Another recipe from my friend Philippe from France.
Oven Baked Delight!
This recipe is very easy. Even if you don't speak French, I promise!
Baked Breasts with Beer!
This breast recipe is considerately provided with beer! Enjoy with great pleasure!!
Crock Pot Chicken And Dumplings
This crock pot recipe will keep you warm in the wintertime. But for amusement, I'm not sure about that yet...
King Ranch Chicken Recipe
This dish will put you and your guests in a very royal mood in more ways than one!!
Parmesan Crusted Chicken (for world fame!)
With this extravaganza your claim to world fame is just a recipe away!
Chicken Tetrazzini (from me and my chef!)
This recipe is for you and your family, from me and my chef!
An Important Chicken Kiev Recipe
This chicken kiev recipe is very important. Find out why!
Shepherd's Pie
An indescribable recipe with a surprise twist.
Chicken Pie Recipe
A chicken pie recipe that not only lets you get creative, but is one everyone will love!
Chicken Pot Pie Recipe
This recipe is a polite change from the usual pot pie recipes. Have a look!
Beer Can Chicken Recipe
Sure to be the best beer can chicken recipe, using chicken legs!
Return from Baked Chicken Recipes
to Easy Chicken Recipe Ideas