Magnificent Chicken
Cordon Bleu Recipe


I learned this magnificent chicken cordon bleu recipe while I was living in Belgium.
I first made this for a group of children I was baby sitting. They loved it so much, nothing was left over! Not a scrap! They were even trying to finish each others plate after they were finished their own!!
I promise: your friends and dinner guests will be just as enthusiastic over it! But hopefully a little more refined. Oui?! ;)


---
---
Ingredients (Serves 4 Cordon Blues):
4 chicken breast halves
4 thin slices of ham
4 slices of cheese of your choice
2 eggs
1 tablespoon flour
2 crushed garlic cloves
¼ cup of white wine
6-8 medium mushrooms (sliced)
3-4 tablespoons grated cheese
2 of tablespoons of finely chopped parsley





Utensils you'll need for this recipe:

cutting board
plastic bag
tenderizer
toothpicks
plate
casserole dish
foil wrap
cooking dish

Directions for My Chicken Cordon Bleu Recipe


Preheat oven 180°C/355°F.
Start by placing a chicken breast in a plastic bag and beat with a tenderizer until it's a thin slice.



Remove from plastic, and place a slice of ham and cheese on the thin breast. (As you can see in the pictures below, I decided to leave out the ham!)



Fold it in half, and fasten the ends with a toothpick. This keeps everything from falling out. Repeat these steps for the remaining three breasts.
* Special tip from Monika! *

If you don't have any toothpicks, lightly saute the chicken wraps. This will melt the cheese and hold everything together just as well as the toothpicks will!

Beat the two eggs and pour onto a large plate.



Add salt and pepper to taste.
Dip the chicken breast wrap in the egg mixture. Be sure that it is evenly coated on all sides.



Place the coated wraps in a casserole dish.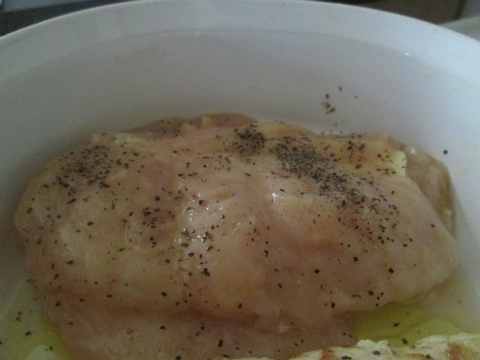 Again, repeat the dipping procedure for the other three wraps.
Cover dish with aluminum foil and heat in oven for about 35 minutes.



Half way through baking, turn the wraps over so that you get a nice even result.
While this is baking, it will create some juices from which we'll make the sauce!
So, when the baking is done....
Place the baked chicken wraps aside on a separate dish, covered!
Pour the juices into a cooking pan. Add the wine.
* Another Special Tip from Monika *
Because my Chef doesn't drink wine, I added some milk and orange juice instead. Trust me! It's very yummy!

Add the flour, finely chopped garlic, and mushrooms.



Heat at medium heat for about to 2 - 3 minutes, making sure to stir constantly at all times until mushrooms are soft and the sauce has thickened slightly.
Add the cheese and stir until the cheese is melted.


My Chef's Tips:


When everything is ready, uncover the chicken breasts, and pour over the sauce. Garnish with parsley.

Serve this chicken cordon bleu recipe with some tender green beans and potatoes....



Yes Chef....and a salad, of course! Honestly, sometimes you remind of those children I was babysitting in Belgium...

Bon appétit tout le monde!!!


Return from Chicken Cordon Bleu Recipe
to Baked Chicken Recipes

Return to Easy Chicken Recipe Ideas