A Divine
Chicken Rolls and Mushroom Delight!



This delectable dish for chicken rolls and mushrooms will really please your family and friends. Not only does it taste wonderful, it looks good!

---
---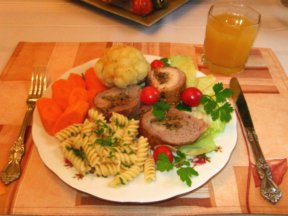 And it's an elegant looking change, at that, from the usual!
Yet this 'roulade' of chicken and mushrooms is really easy to prepare. And while it's baking, you can do other things like prepare a salad, pasta or vegetables.
Or just give yourself a little time out breather! :)


Ingredients (Serves 4 delights):
4 boneless chicken breasts
1 medium onion
2 tablespoons butter
200 g mushrooms
2 tablespoons finely chopped parsley
1 clove garlic
salt and pepper to taste
1 tablespoon of butter


Directions:
Clean chicken breasts under running water. Trim excess fat.
Crush the garlic.
Using a tenderizer, beat the chicken breasts until they're flat.
To avoid a splattering mess, first put the breasts in a plastic bag.
Smear the chicken breasts with the garlic.
Sprinkle salt and pepper over the flattened breasts.
Rinse and peel the onions. Then cut into small pieces.
Slice the mushrooms.
Sautée the onions and mushrooms over low heat until soft and lightly golden in colour.
Next lay down the onions and mushrooms over the chicken breasts in a narrow line. Sprinkle with parsley.
Finally, carefully roll up the breasts around the onion and mushroom mixture. Close the roll and put together with toothpicks, so that the stuffing does not fall out.
Grease a baking sheet with the butter. On this place the 'roulade'!
To keep from getting dry, you can also smear the rolls with 2 tablespoons of bbq sauce. And while it's baking, you can brush the rolls from time to time with the sauce off the baking sheet to enhance their final flavour!
Bake about 1 hour at 200°C/390°F.
When done, remove the toothpicks!


My Chef's Tips:

Serve with pasta, (or rice), carrots and cauliflower.
Enjoy!!!
Return from Chicken Rolls and Mushrooms
to Baked Chicken Recipes

Return to Easy Chicken Recipe Ideas