Chicken And Cheese Recipes
With Mushrooms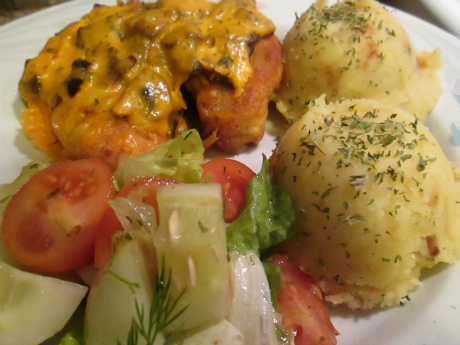 My Mom is Special!
Chicken and cheese recipes with mushrooms!
I called my mom last Sunday. So what happened..?

---
---
She asked me what I'm cooking?
I told her my Chef wants me to make some chicken. But I needed some new fresh ideas, so I can share them with my amazing readers. (And please my Chef :P)
So she shared one of her chicken and cheese recipes with me.
This recipe combines sauteing and baking. She also uses breadcrumbs and eggs in this recipe. And on the side, we saute some mushrooms too! Neat eh?!
Thanks a lot Mom!
You'll be thankful, too. This dish tastes great. It's so fresh and juicy.
And it looks amazing...right Chef?


Ingredients (Serves 2 cheese):

2 chicken breasts
1 egg
1 cup of breadcrumbs
2-3 tablespoons of oil
4-5 mushrooms
1 tablespoon of butter
100 grams of grated cheese (your choice)
Salt and pepper to taste
1 tablespoon of fresh chopped parsley


Directions:

Wash the chicken breasts. Dry with paper towels.
Set up 2 plates with high rims.
Wash the egg. Crack and pour the yolk on the first plate. Whisk thoroughly with a fork. Then add some salt and pepper to taste.
On the second plate: add all of the breadcrumbs.
Over a medium heat in a medium sized pan, add the oil.
Dunk the first chicken breast in the egg mixture and make sure it's completely covered. Next place the breast in the breadcrumbs. Make sure it's evenly covered as well. Place in the pan. Repeat with the other chicken breast.

Saute your breasts in the pan for 3-4 minutes on each side.



Make sure you check when you're sauteing them, that they get a golden color and become very crunchy.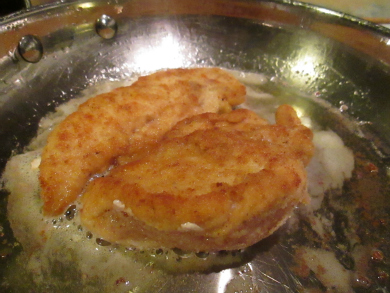 In meantime, cut the mushrooms into medium pieces and saute with the butter for a few minutes, over a medium heat.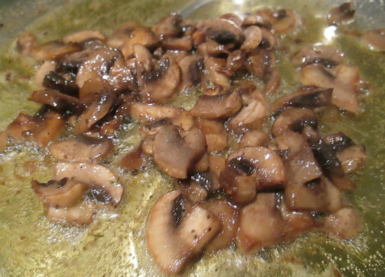 Preheat your oven to 300° C/575° F.
When chicken is ready, remove from the pan and place onto a baking sheet without any extra oil.
On top of chicken add the sauteed mushrooms. Sprinkle with grated cheese.

Place in the oven and bake for 15 minutes.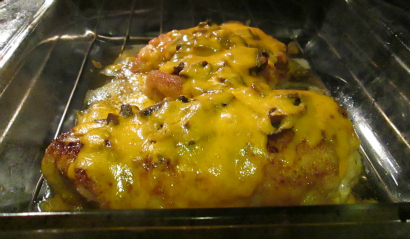 Serving Suggestions:

For the best results, these chicken and cheese recipes taste great when served immediately. And with your loved ones!
(Me, I'll just share with my Chef ;)

We had our dish with mashed potatoes and a green salad made with ingredients from my garden!

Thanks again, Mom! Kocham Cię Mamo!!
Return from Chicken And Cheese Recipes
to Baked Chicken Recipes

Return to Easy Chicken Recipe Ideas