Inviting Chicken Recipes
For Two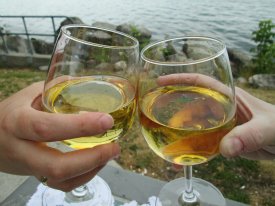 Dinner for two?!
---
---
Chicken recipes for two is all you'll find here in this section!
With the kids away at friends (hopefully armed with some of my chicken recipes for kids!!!), you can serve up a quiet, intimate evening at home, alone, with that special someone.
You can create these special dishes the whole year round. There's no season necessary for a special dinner for two.

And while these recipes indeed are special, you'll find that many of them are very easy to make - giving you more to time for....!
Well..never mind!...

This recipes are so easy to make, that maybe even the husband can surprise his wife by preparing them?!!
Well ladies, we can dream, can't we?!!

* * * * * * *

OK! Let's start with something!
A pinch of enthusiasm, a dash of time, maybe some salt and pepper and - of course - a lot of love!

No?!

And don't forget the chicken, our main ingredient!!

Make your choice!...
Chicken Recipes For Two

Oven Baked Chicken Legs!
With this recipe for two, I'm doing something very different!!..
Chicken Leg Recipe
No doubts: any chicken leg recipe is just plain boring. It's what you put into your meals that make them interesting!!
Dill Sauce Recipe
You'll be very intrigued as to why I'm writing a dill sauce recipe for chicken - but you'll also enjoy it a lot too!
Spinach Stuffed Chicken Breasts
Find out I had a lovely simple lunch with my Chef using just a few simple basic ingredients and a wonderful afternoon!
Romantic Recipe For Shepherd's Pie!
How can a recipe for shepherds pie really be romantic? Interested in finding out? Here's how....
Stuffed Chicken Breast Recipe
This sophisticated recipe is incredible! With delicious feta cheese, onions, mushrooms and tomatoes, it smells so good!
Chicken Breast Marinade Recipe
I love new ideas and recipes! This chicken breast marinade is one of those new ideas. With a sweet and sour twist, of course!!...

Chicken Bolognese Sauce Recipe
The inspiration for this recipe came from my memories of Belgium. When I was living there, I often had spaghetti bolognese. So!...
Chicken and Rice Recipe From Peru
This is a wonderful chicken and rice recipe from one of my friends at work! Guess where he's from?!
Chicken Sushi Roll Recipes
Chicken Sushi Roll Recipes? Are you joking! I just love sushi recipes!
Orange Chicken Recipe
If you really love oranges, you'll really love this recipe. Maybe more than your dinner companion!!!!
Chicken Thigh Recipe
You'll love this too.....it's a recipe that has everything: romance, thighs, more oranges...
Sweet and Sour Chicken Recipe
For those rare occasions - this - is perfection!
Boneless Chicken Breast with Tomato and Basil
Here's one of my simple boneless chicken breast recipes that will WOW your partner...and you!
Still Bored?
In the kitchen? Well I have a much, much better idea!

Return from Chicken Recipes For Two
to Easy Chicken Recipe Ideas