Chicken and Pasta Recipes!
Chicken and Pasta Recipes offer a nice simple change from the usual sides served with chicken, whether you`re serving two people - or a party of eight or more!!

Pasta comes in hundreds of shapes, colors, and flavors, and in combinations that are seemingly endless. It's a wonderful idea both as a starter or main course.



---
---
And it's is so easy to cook, even a child can do it! (So can my Chef!)
You should know that different types of pasta have to be combined with changing amounts of water and salt added to cook them thoroughly - you can always find that information on the package.
But - probably my main point to you - because of the variety, it gives you, and me, choices to bring surprise taste treats to your family and friends!
Here's a tip I`d like to give you:
After the water starts to boil the pasta, add one teaspoon of oil to keep the pasta from sticking when it`s finished.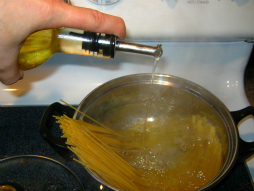 Do You Have A Terrific
Chicken and Pasta Recipe?
Do you have a great story to tell?
OK! Share it with our readers!
And Thank You!!
---
Chicken and Pasta Recipes

Cauliflower Chicken Pasta Surprise!
What could possibly be surprising about cauliflower anymore? I'll tell you, it's because of my Chef!! Find out more...
Sesame Chicken Pasta Salad Inspiration!
Why am I inspired? No it's not because of my Chef!! Maybe it's the sesame this time!...
Chicken Meatballs Recipe With Pasta and Tomato Sauce
Who said chicken meatballs are only for kids?!! I had lunch with my Chef the other day. When I mentioned this to a couple of friends, they were intrigued...
Easy Ratatouille Recipe With Chicken!
Easy Ratatouille Recipe! Who does not remember the famous Ratatouille movie? If you're like me, I'm sure you know and love it.
Sundried Tomato Recipe With Chicken And Pasta!
It's no secret that my Chef loves pasta. But....he doesn't drink wine or eat sour cream....Well - that's fine!! More for me ;)

How To Make Pasta With Chicken and Tomatoes!
I know how hard it can be to balance work, family and cooking. So, I've made very easy for you. And tasty too!

Roma Chicken With Pasta
From my travels to Rome to your dinner plate!

Easy Chicken Lasagna Recipe
Why am I making an easy lasagna recipe? With chicken? Find out why!
Lemon Chicken Pasta
This dinner works nicely for a private evening for two.
Chicken Tomato Pasta
Keeping with our dinner for two theme, try this tempting recipe.
Pasta Recipe With Garlic
If you're more adventurous(!) this chicken and pasta recipe is just superb.
Baked Chicken Pasta
For a larger, more 'royal' gathering, this dinner is an enchanting choice.
Chicken Pesto Pasta
If you're free of hang-ups, then you won't mind making this grotesquely delicious chicken pesto pasta (Say that ten times fast!!)
Broccoli Chicken Pasta
Having a quiet evening? This lovely dinner is actually quite simple to make!
Chicken And Noodles Dish
Do you like tomatoes? This pasta recipe has plenty of them.
Cordon Bleu Pasta Recipe
Be special (like me), yet simple (like my chef)! Try this Cordon Bleu pasta recipe.
Spicy Chicken Peanut Pasta Dish
Here's a sauce-y (but not sexy) spicy chicken peanut pasta dish.
Return from Chicken And Pasta Recipes
to Easy Chicken Recipe Ideas