Chicken Salad Recipes
No Special Occasions Needed!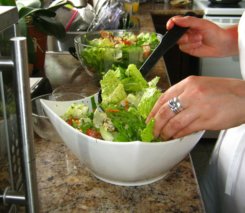 I have lots of tasty Chicken Salad Recipes for you.
Why?!
Many of my readers write to me asking for ideas for serving chicken.
No problem!
I'm so very glad you do! :)
"But Salads"?!! You say!? "Rabbit food"???
Let me tell you this!:


---
---
SALADS ARE NOT RABBIT FOOD!!

Like soups, they're part of a very healthy habit, especially every day. And besides giving us necessary vitamins that we need, they taste great!

Whether it's for lunch, dinner, or a barbecue, there is always something to combine these easy salad recipes with.

And if you're like me and my chef, you always like to try something new and different.

And you never need a special occasion or reason...

When I lived in Belgium, they ALWAYS had salads for lunch! And an interesting thing for me was, whenever I went to a restaurant they always used wooden bowls to serve them in.

I thought that was kind of neat because I never saw that before.

You will absolutely love these salad recipes!

...so just pick one below and get started!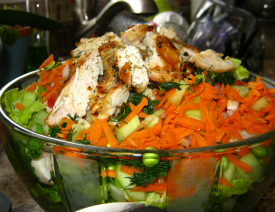 Chicken Salad Recipes:

Chicken and Kale Recipe!
Of course! I have many reasons for using kale. Find out the main one by clicking the link above!

My Best Egg Salad Recipe!
Here you will find out three things: Why I think it's the best; where I got my inspiration; and that it tastes great! But I bet you knew that last one!!

Chicken and Potato Magic!
I made this easy potato salad recipe for one reason - and one reason only. Find out what the magic is!
Chicken and Peppers - Summertime in a Bowl!
This recipe is exactly what it says! It was winter as I wrote up this recipe. I was a bit tired of winter...so I decided to bring some colours into our house. Have a look!
Experiments with Vegetable Salad
I was making lunch, and I had vegetables from my garden I wanted to use for something. So I thought I would experiment with a little salad as a side dish.
Chicken Avocado Salad With Mustard Sauce
My Chef was hungry. What did you think I did? I looked around my kitchen and I saw had an avocado I had to use. And inspiration led to this recipe!!

Chicken Salad With Grapes
Chicken salad WITH GRAPES?!! Why not?! This is a perfect salad for the beginning of September. You have grapes. You have nuts. And....

Grilled Veggie Pasta and Chicken Salad
My vegetable pasta salad recipe is an awesome choice for you! Why? If you could see outside my kitchen window now you'd know why!

Greek Chicken Recipe Salad
So how do I come to this Greek chicken recipe salad?! I was invited to one of my friends house to a barbecue. Then I had an idea!...
White Kidney Bean Salad Recipe with Chicken
Something different that you will really enjoy. This has everything! It's tasty, healthy, and economical.

Basic Salad Recipe
This basic chicken salad recipe is one I really love. It's really easy to prepare and tastes great!!

Best Salad Sandwich
A perfect sandwich is more than filling up two slices of bread. Best is the perfect description for this dish - perfect for picnics, lunch, or parties!

Chicken Salad Recipe with Pasta
I had some leftover chicken, so I made this AWESOME chicken pasta salad recipe!

Chicken Pasta Salad
Like to combine chicken and pasta? Great! My chicken pasta salad is something you'll enjoy!

Pineapple Chicken Salad (Ladies Only! :)
This salad is missing one ingredient....but you'll find out why it's not important!

Chicken Parmesan Salad
This salad, with fresh basil and zesty Parmesan cheese, is absolutely fabulous!!

Easy Salad Recipe
This very easy salad recipe is perfect when you're in a hurry but want something nourishing.

Chicken Salad Recipe
A super simple salad recipe for anyone and everyone!

Sesame Chicken Recipe
Here's a very special sesame salad recipe to try and enjoy with friends!

Grilled Chicken Salad
A crunchy grilled recipe that's sure to please people of all nations!

How To Make Chicken Salad
My Mom really knows how to make salad with chicken ! You'll be impressed. (My Chef was!!)

Shredded Chicken Sandwich Recipe
A shredded chicken sandwich recipe for any occasion. Right Chef?!

Italian Chicken Pasta Salad
This salad is so irresistible; you can't help but fall in love with it!!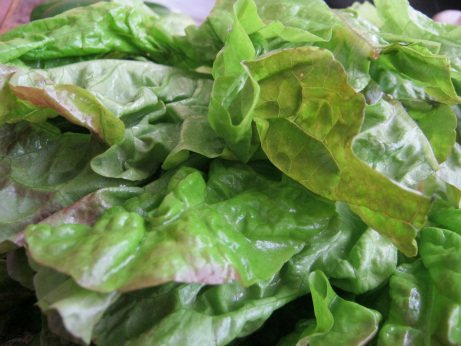 Return from Chicken Salad Recipes
to Easy Chicken Recipe Ideas