Chicken Soup Recipes
Do you love nourishing, tasty chicken soup recipes?!
Of course you do!! Isn't that why you're here?!


---
---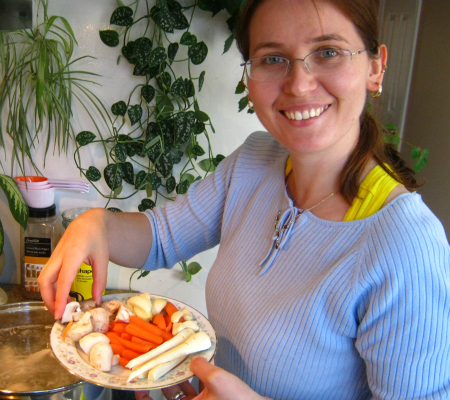 But how about this? Did you know...
Eating soups on a daily basis is a very healthy habit?
They give us the necessary vitamins that we need for our body to function well?
They taste great?!!!
Easy to make, tasty, chicken soup recipes is what you're going to find here!
And...
...all with plenty of variety, flavours, and even colors to tantalize the visual senses as well!
I've been testing various kinds of soup recipes from a very young age. My mom was my first teacher.
Now, I prepare soups for me and my chef. And whenever I have guests in my house, I'm always complimented for the wonderful taste of them.
And you will be too - I promise!

So pick one below...



...and let's get started!


More Chicken Soup Recipes!!


Chicken Pumpkin Soup
Yes!!! Chicken Pumpkin Soup! This is the perfect dish for the Fall and Winter months. It fits any occasion.

Chicken Potato Soup
Grumpy grocery shopping results lead to inspiration in my kitchen. Find out what I did!!

My Ukrainian Borscht Soup Recipe
My Chef is asking a lot of questions about this recipe! To find out why you should check this page for a delicious soup recipe that holds a special place in my heart!

White Bean Soup Recipe with Chicken
What something perfect anytime? Try my kidney bean soup recipe! With chicken of course!
Best Chicken Soup
This is the best soup recipe for wintertime...or anytime!!

Cream of Chicken
This creamy soup recipe is a perfect addition for wedding receptions.

Chicken Tortilla Soup Recipe
A spicy Mexican Chicken Tortilla Soup Recipe for those who like their soups - well, what else? - spicy!!

Chicken and Rice Soup Recipe
A tantalizing soup recipe for those who like to combine chicken and rice!

Lemon Chicken Recipe
You'll surprise your guests with this zesty, energetic soup. I surprised my chef, too!

Chicken Noodle Soup Recipe
This is my very favourite soup recipe and I use it for special occasions like family gathering, weddings, and anniversaries.

Chicken Vegetable Soup Recipes
Some soup recipes come and go but this is one that everyone will be enjoying, family and friends alike.

Cabbage Chicken Soup Diet
This is a low-fat soup, and with a lot of fibres that everyone needs to be healthy.
Chicken Soup Diet
For those who like chicken and watch their weight; this is a wonderful solution without losing the chicken taste.
Return from Chicken Soup Recipes
to Easy Chicken Recipe Ideas