Chicken Kabobs!
What Do You Think?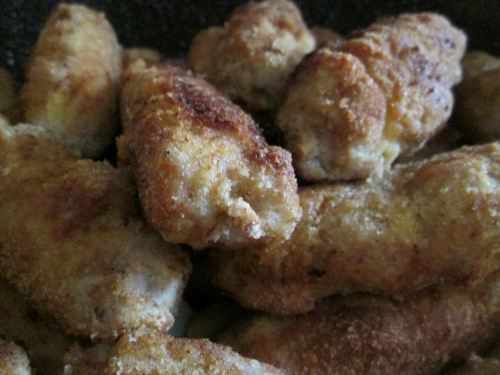 I can't tell you what my Chef thinks of my chicken kabobs!
But I can tell you that they're tasty, delicious,... different!!

---
---
Why are they different?
For me the biggest difference is...the shape!
If you've been been through my site, you know I like having nice colors go along in my ingredients. But shape is important too. Instead of large round or square shapes, these have a nice long slender shape. This gives you options to place side dishes on the same plate in appetizing ways. You can really impress your guests and get creative with your presentation! And the kids will love handling chicken on a skewer.
We served this for an Easter Dinner once. It was definitely out of our normal routine. This is because usually we have a whole chicken, or legs, or cutlets.
Simply put: chicken kabobs is chicken presented in a different way!


Ingredients (Serves 4 kabobs):

4 medium chicken breasts
2-3 eggs
1 cup breadcrumbs
vegeta seasoning
4 tablespoons vegetable oil
salt and pepper to taste
8 wooden skewers


Directions:
We're going to do some sauteing. Place the vegetable oil in a pan and set on very low heat.
Set your oven to 180°C/350°F.
In a bowl add some salt and pepper, and vegeta seasoning. Crack open the eggs and place in the same bowl.
Beat the eggs being sure to mix well with the seasonings. When done, pour on a large plate with high rim.



On another plate place the bread crumbs.
Wash chicken thoroughly and dry lightly with paper towels.
Next cut the chicken into bite size pieces (1-2 inch squares).
Place the chicken pieces on the skewers. Now we're going to have two skewers per person, so divide the pieces accordingly. If you know you'll be serving children you might place less chicken on the skewer for them.
Roll each skewer over the egg mixture. Be sure to coat the chicken completely and evenly on all sides.
Then roll coated chicken over the bread crumbs.
Saute the skewered chicken on all sides until lightly golden.
Place on a baking tray and place in the (preheated) oven for 5-10 minutes until it's a nice light crispy brown color. Dividing the steps between sauteing and baking is better. Baking uses less oil overall, gives a better taste and texture, and of course the aroma is so much more wonderful!!
Once you've made this, you might want to look over my Chef's tips below for some nice options to try when make this the next time.


My Chef's Tips:

Next time you make this, try these alternatives:
Add more pepper for a little extra spice!
Add Swiss cheese between breast layers!!
Place some sliced onions in the baking pan before putting the kabobs in to add a different flavor!!!
But that's for next time! For now...
This chicken kabobs recipe goes great with a nice garden salad and green veggies like broccoli or brussel sprouts.
And you won't need to care what my Chef thinks because you'll know for yourself!!
Na zdrowie!
Return from Chicken Kabobs
to Baked Chicken Recipes

Return to Easy Chicken Recipe Ideas