Chicken Cabbage Rolls Recipe!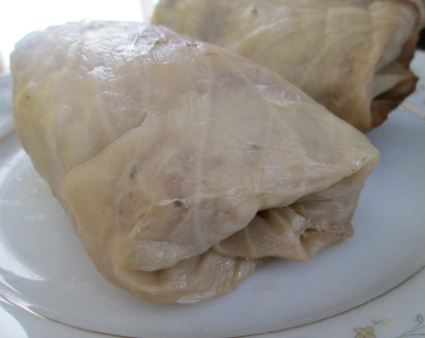 Chicken Cabbage Rolls Recipe!
"What are we doing here?" my Chef is asking!
I'm taking traditional well known recipes (like Shepherd's Pie) and my putting my easy chicken twist on it!

---
---
OK - so what are chicken cabbage rolls?
First lets find out what plain cabbage rolls are: cabbage rolls are where we take cooked cabbage leaves and wrap them around fillings, usually ground beef. That's it! Simple, right?
Did you know cabbage has lots of vitamin C! This is great - especially for winter time needs.
And making this dish is very easy - but! - make sure you read my recipe first a few times. You'll find out why and be well prepared!
Cabbage rolls are well known in Europe, especially the eastern section. In my home country of Poland we call them "gołąbki".
Of course, they're very popular everywhere! Not just Europe. Or Poland. Which makes me proud to share my chicken recipe with you!


Ingredients (Serves 6 - 10 rolls):
2 lbs/1 kg ground chicken
2 cups cooked rice
2 eggs
2 small onions
1 piece finely chopped garlic
1/4 cup tomato sauce
1 teaspoon oregano
salt and pepper to taste
large head of cabbage
tomato juice


Directions:
Read all the directions first before actually starting!
Remove the core from the cabbage but leave all the leaves on. Freeze the whole cabbage overnight. Thaw the cabbage before you make this recipe. Thawing the cabbage makes it easier to work with. The freezing frees you from having to cook the cabbage ahead of time.


Neat, eh?!
Now we prepare the stuffing!
Preheat the oven to 325°F/160°C.
Place the ground chicken in a large mixing bowl.
Add the rice.
Next crack open the two eggs and add to the bowl.
Peel and wash the onions. Chop into small pieces and continue to add to the mixing bowl.
Peel and finely chop the garlic and add. Finally add the tomato sauce, oregano, and salt and pepper. Mix everything together very well.
Now we make the rolls:
First - here's a tip to avoid burning any of the rolls that will be on the bottom of the roasting pan: simply place a layer of cabbage leaves to line the the bottom of the pan. Then place the finished rolls on top.
Good? Ready...
Peel the leaves off of the cabbage. Remove the large vein if it's really thick and tough.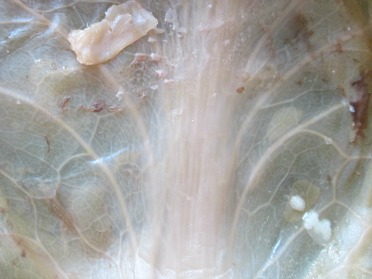 Place some of the mixture onto the leaves and roll carefully. Place in the roast pan. Use the size of pan you need for the number of rolls you're going to make.
When you're done, cover all the rolls with tomato juice.  If you're making a lot and you have a small pan, you can layer these in the roast pan. 
Bake for 2 hours. Keep an eye on things to prevent burning.


My Chef's Tips:

This particular cabbage rolls recipe is really yummy. Especially with the chicken!
Serve with a nice light garden salad for starters. For sides, add steamed broccoli and corn niblets!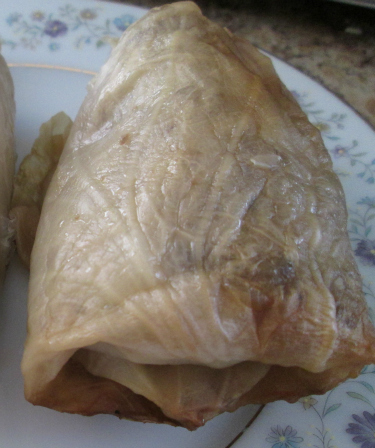 A nice hearty, simple meal!
Even if you make too much "gołąbki", you can always eat the rest the next day!
Czas na  gołąbki, cieszysz się!?
Return from Chicken Cabbage Rolls Recipe
to Baked Chicken Recipes

Return to Easy Chicken Recipe Ideas