Parsley Baked Chicken Recipe
Across The Miles!

This parsley baked chicken recipe is another special one from mon ami Philippe and his wife Frédérique!
---
---
He's very proud to share his recipes with you. Philippe says: "It's amazing that we can share such simple things while we are many, many miles away from each other through friendship".
P.S. Baisers de France à tous!

I hope you enjoy Philippe's recipe very much and that you share your own too by clicking here and filling out the form.

Ingredients (Serves 6 parsleys):
1000 g of chicken breast
160 g butter
2 tablespoons of oil
3 to 4 tablespoons chopped parsley
Salt and pepper to taste


Directions:
Wash chicken breast and dry thoroughly with paper towels.
Then cut into medium sized pieces.
Pre-heat oven to a temperature of 180°C/355°F.
In a large pot melt half the butter with the oil.
Place the just cut poultry bits in to the pot making sure that the pieces do not overlap.
Heat everything now over a low to medium heat until lightly browned.
Add a little bit of salt and pepper to taste.
Place the chicken in the heated oven for about 20 to 30 minutes to finish cooking.
Turn the chicken bits over many times, to make sure they're thoroughly cooked.
Avoid letting it dry out!

Remove poultry from the oven when done, and put them on a serving plate. Add a little hot water to some of the juice to prevent stickiness with the breasts.
Here's our parsley step for this baked recipe (finally!):

Mix the remaining juice with the butter and chopped parsley, and pour over the breasts.


Philippe's Tips:

Serve your dish with: purée de pommes de terre, salade, les légumes à ton choix, et le vin blanc!!
(Mais pas pour ton Chef - Oui?!!)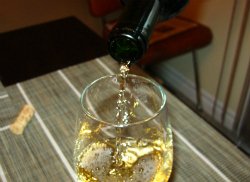 Bon appétit mes amis!!

C'est très bon! Je vous promets! :)

P.S Bisous!
Return from Parsley Baked Chicken
to Baked Chicken Recipes
Return to Easy Chicken Recipe Ideas