Beer Can Chicken Recipe
Without The Can!
By popular request, I give you my beer can chicken recipe using chicken legs!
---
---
This chicken leg recipe with a twist is super easy, guys, and the beer will add a rich and unique flavour to the chicken. Trust me when I say that you will enjoy this recipe and be well rewarded for your efforts.
But make sure that you don't get drunk!!
And don't finish the beer before you start cooking! :)
One more thing: this dish makes the chicken skin extra nice and crispy!
Sounds delicious? Good!
Give my beer can chicken recipe a try and let me (and my chef) know what you think!
Ingredients

: (Serves 4-6 beer cans)
4-6 chicken legs
400 g mushrooms
Yellow pepper in the marinade to taste
2 large onions
1 bottle of dark beer (see - I told you no can!)
1-2 tablespoons of flour
2-3 tablespoons of water
1-2 tablespoons sour cream (come back chef!)
1 tablespoon of fresh chopped parsley
Vegeta seasoning to taste
Directions:
We start this beer can chicken recipe by heating the oven to 250°C
Wash chicken legs under running water. Dry with paper towels and put aside.
Wash all veggies: onions, mushrooms, and peppers.
Dice the onions.
Cut mushrooms into thick slices.
Sautée onions until they get a golden, brown color.
Add the cut mushrooms to the onions. Add salt and pepper to taste.
Sprinkle chicken legs with a little salt and pepper, just to taste. Put them into a roasting pan.
Cut the yellow pepper into thin, elegant slices.
On top of the chicken legs, put the sautéed mushrooms and onions, and add the just cut yellow pepper. Sprinkle all veggies lightly with Vegeta.
Pour ¼ bottle of beer over everything, place in the oven.
In this version I substitute beans for peppers!

Bake for about 1½ hours and check frequently to avoid burning. Every 15 minutes, add a little bit more beer. This makes the chicken legs nice, tasty and juicy.
It also creates a great sauce.
When they're baked, remove the legs from the sauce, and place into another pan and back into the oven to get a nice crunchy skin for 10 - 15 minutes maximum.
Watch carefully to keep from burning!
In the mean time, prepare the sauce:
Season the beer sauce with just a little more salt and pepper, if needed.
Then mix the flour with a little bit of water. Stir well with a whisk to keep an even and smooth consistency.
Then, finally add the sour cream.
Mix everything well and sprinkle with fresh chopped parsley.
Arrange chicken legs on a plate, and pour over the sauce.
Enjoy! Salute!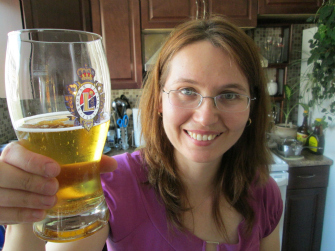 Return from Beer Can Chicken Recipe
to Baked Chicken Recipes
Return to Easy Chicken Recipe Ideas