A Chicken Pot Pie Recipe
For Everyone!



This chicken pot pie recipe is a polite change from what you usually call a 'pot pie'.

My friends, Rani and Nigel, have asked for this recipe especially.

---
---
But this recipe is for you, your family and others, too. So stop feeling left out!!
And again, this is really easy to make - even my Chef can do it! :)


Ingredients (Serves 4-5 pots):
400 grams minced chicken
150 grams diced ham
2 sausages, chopped
2 medium onions
1 garlic clove
4-5 mushrooms
50 grams of grated cheese of course (your choice!)
Salt, pepper, paprika to taste
1 egg, beaten
1 tablespoon of chopped finely parsley


For Pastry:
2 cups flour
1 cube butter around (200 g)
4 egg yolks
pinch of salt
1 teaspoon baking powder
1 tablespoon sour cream


Directions:
Peel and wash onions. Cut onion and garlic into small pieces.
Preheat the oven to 250°C.
Wash mushrooms and cut into small pieces.
Mix the minced chicken with diced ham, chopped sausage meat (from 2 sausages), finely chopped onions, garlic, mushrooms, grated cheese, and with finely chopped parsley.
Season with salt, pepper and paprika.
Next:
Grease a medium sized pie dish with butter.


Prepare Pastry:
Mix all the ingredients for the pastry together to form the dough.
Separate into two balls.
Using a rolling pin, roll out both dough ball's into a circular shape. Pierce the flattened dough's several times with a fork. This helps the dough to rise while baking.
Lay out one of the dough portions in the greased pie dish and let it hang slightly over the edge.
Now fill the dish with the minced chicken/meat mixture. Fold the rest of the puff pastry over it. Brush the top with beaten egg.
Sprinkle with salt, pepper and paprika, and put the pie for about 30 minutes in preheated oven.
When it gets a nice golden colour, it's done. Remove and let cool a bit.


My Chef's Tips:

Serve with a salad.(Oo-la-la Chef! Can you be more polite???)

For all my readers and for you guys - Rani and Nigel :)
Bon Appétit!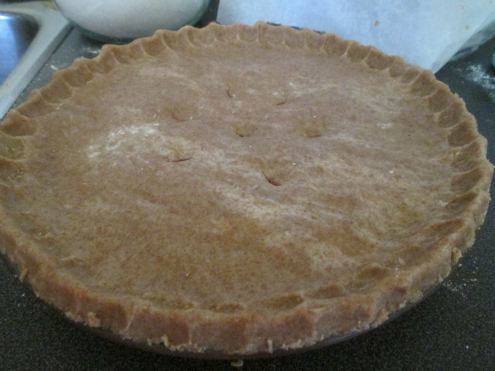 Want some pie?!

Return from Chicken Pot Pie Recipe
to Baked Chicken Recipes
Return to Easy Chicken Recipe Ideas