Baked Chicken Breast Recipe
Beer Included!

This baked chicken breast recipe is going to be very popular with the guys!
"Why?", you might be asking, Chef!
Because - yes - ...


---
---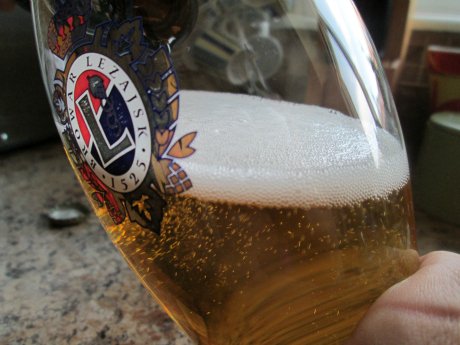 ...we're using beer in this recipe!!
:)

But!...I'd advise to serve the beer after you're done preparing this meal!
This is not a problem with my Chef because he doesn't drink beer (oh well more for me!)

I'll remind you about this again at the end of this recipe!! Enjoy!


Ingredients (Serves 4 beers):
1½ kg chicken breasts
100 g chopped celery
1 leek
2-3 carrots
2 medium onions
300 ml of chicken broth
a pinch of cumin - just to taste
400 ml of beer
Salt and pepper to taste
2-3 tablespoon of butter
100 ml of water
1 tablespoon of parsley finely chopped


Directions:
Preheat the oven to 220°C/425°F.
Wash and dry the chicken breasts. Rub with salt and pepper.
Because the breasts are separate, we'll need to tie them together with cooking string.
Wash and cut veggies into medium sized cubes.
Spread the butter over a baking dish, and put the chicken into a baking dish. Be sure the breasts are tied together! Add the water.
Bake for 15 to 20 minutes. Halfway through, turn the breasts over so they're evenly cooked.
Then add the veggies and cumin, and bake for another 20 minutes.
Then after the 20 minutes, add the chicken broth and 100 - 150 ml of the beer!
Bake for another 30 minutes, add the rest of the beer and bake for a final 15 minutes.
With all the liquids and juices being stirred up in this recipe we're going to have a really wonderful sauce.


My Chef's Tips:

To serve, place some sliced breasts on a plate with potatoes. We won't need extra veggies because we've been cooking them with the chicken. Then, drizzle with 1 - 2 tablespoons of that lovely sauce we've been raving about!
Like I said before, if you're having beer, make sure to have it after you've finished baking! :)

Essen, trinken und fröhlich sein!!!
Return from Baked Chicken Breast Recipe
to Baked Chicken Recipes
Return to Easy Chicken Recipe Ideas