Spinach Stuffed Chicken Breast!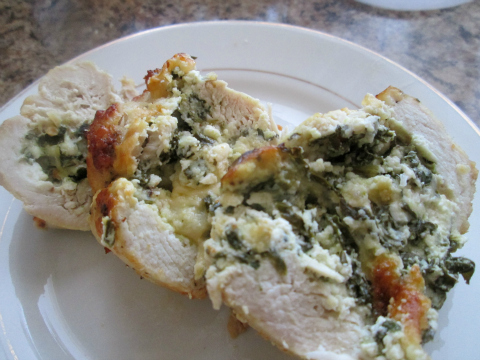 For a lazy romantic afternoon lunch, this spinach stuffed chicken breast is just perfect for two.

---
---
I made this for my Chef a while ago which I adapted from a prosciutto recipe. Here I left out the bacon and ham. I used toothpicks to hold everything together instead of the bacon and ham wrap.


Ingredients (Serves 2 Stuffs):
Olive oil as needed
1 cup baby spinach
1 cup white cheese, crumbled
1/2 cup Monterrey Jack cheese
vegeta seasoning to taste
Salt and freshly ground pepper to taste
2 boneless, skinless chicken breast halves
toothpicks (not for your teeth Chef! uff!)


Directions:
Preheat your oven to 400ºF/250ºC.
Prepare the filling:
Wash and dry the spinach. Chop into small to medium sized leaves.



Next we'll prepare our cheeses.
Place the white cheese in a bowl, crumbled like you see in the picture below.
Add the chopped spinach and mix thoroughly together.



Slice the Monterrey Jack cheese into small rectangles - one by two and about a quarter inch thick.



Wash the chicken breasts thoroughly and dry with paper towels.
The next step we'll have to follow very carefully. Slice the chicken breasts in half BUT only part way so you can open it up like a book. See the pictures below.



Next we're going to tenderize the chicken. To keep everything from splattering around your kitchen, place the open chicken breasts in a clear plastic bag and place on a sturdy breadboard.
With a tenderizer, pound the chicken breasts until they're even and flat. See the pictures for a guide.



Take the chicken breasts out of the plastic and lay them open on the cutting board.
Spoon some of the white cheese spinach mixture onto the center of the open chicken breast. Add some slices of the jack cheese on top. Sprinkle with pepper and some vegeta seasoning.



Next carefully roll up the chicken breast until the spinach and cheese mixture is tucked inside. To hold everything together, insert toothpicks along the length of the chicken roll and at the ends.



Carefully place both rolls in a baking dish. Cover lightly with some olive oil (or your choice of oil).



Place in the oven for forty to forty-five minutes. The outside should be a golden brown color.


My Chef's Tips:


When we enjoyed our spinach stuffed chicken breast lunch, my Chef and I had a simple tomato salad. It was lovely afternoon.



I know you'll love this too.
Return from Spinach Stuffed Chicken Breast
to Chicken Recipes For Two

Return to Easy Chicken Recipe Ideas