Chicken Leg Recipe
In Mushroom Sauce


No doubts: any chicken leg recipe is just plain boring.

It's what you put into your meals that make them interesting! Whether that's a special ingredient or setting up a special romantic evening with your significant other.


---
---

Or maybe…..you'll just have an evening like I have with my Chef! :P


Ingredients:  Serves 2 legs
6 chicken legs
5-6 medium mushrooms
2 medium onions
1 clove of garlic Chopped
100 ml sour cream
1 tablespoon flour
3 tablespoons butter
2 tablespoons oil
organic cane sugar to taste
thyme to taste
2 tablespoons fresh, chopped parsley
salt and pepper to taste


Directions:
Wash the chicken legs thoroughly. Dry with paper towels. Place the legs on a plate or in a bowl.



Sprinkle them with, salt, pepper, organic cane sugar and thyme. The sugar is the special ingredient that will give the chicken a sweetness and crispy skin.

Then roll the seasoned legs in the flour.



In a saucepan melt the 2 tablespoons of oil in a skillet over medium to high heat.



Add the legs and saute them until they're light golden brown.



Pour in a few tablespoons of water. Cover and simmer over low heat for an 1 hour.
Peel and wash the onions. Cut them into cubes. Add the garlic.



Wash and dry the mushrooms. Cut into thick slices.



In a pan melt some of the butter over medium heat.



Add the onions.



Saute for about 10 minutes until they're a light golden colour.
Add the sliced mushrooms.



Continue cooking for about 5 more minutes. Then add 1½ cups of water and bring to a boil.
In a bowl add the flour.



To this add the sour cream.



Mix everything well using a spoon. Next pour the entire onions and mushroom sauce into the mixture.



Continue mixing.
Once everything is well mixed, pour everything back into the pan.



Add a little salt and pepper to taste. Continue cooking over medium heat for 1 to 2 minutes.
When done sprinkle with plenty of chopped parsley into the sauce.


My Chef's Tips:


Serve our chicken leg recipe with green garden salad and mashed potatoes.



Place the chicken and potatoes on a serving plate. Then pour over the mushroom sauce in the desired amount.
Sprinkle with more parsley if you like!
Meals with me and my Chef are never boring...trust me!!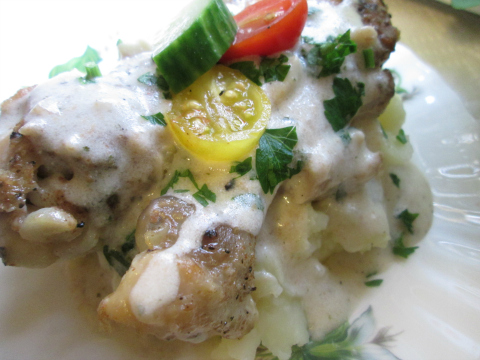 Return from Chicken Leg Recipe in Mushroom Sauce
to Chicken Recipe For Two

Return to Easy Chicken Recipe Ideas