Orange Chicken Recipe
From My Mom!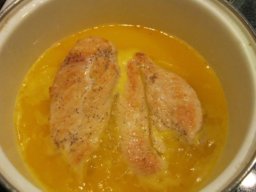 Have you ever thought of combining chicken and orange to make an orange chicken recipe?

Well I got this orange recipe from my mom!!!

So right away you know (like my chef does) that this is a really, really, special recipe.
---
---
And it also makes this recipe, the perfect chicken recipe to share with that special someone - just for two! Like I do with my Chef....sometimes!

One of the things I love about this dish is the orange juice: it gives the chicken a wonderfully different taste. The chicken will definitely be a little sweeter when you're finished preparing, of course!

But I'm sure about one thing: You'll be pleasantly surprised with the results!


Ingredients (Serves 2 oranges):

2 chicken breasts
Salt and pepper to taste
2-3 oranges
....or....
1-1½ glasses of orange juice
3-4 tablespoons of oil
Directions:
Wash and dry the breasts, and lay on a plate.
Sprinkle both sides with salt and pepper. Cover and leave in the fridge overnight.
Heat oil in pan over medium heat.
Wipe off the oranges, cut in half and squeeze out the juice. We're doing this in order to get between 1 - 1½ glasses of fresh juice - fresh is ALWAYS better.
Remove chicken from the fridge, place into pan, and sautèe both sides.
Add the orange juice.
Cover and leave on medium heat for 30 minutes.
That's it! Did I mention that this was really easy? (It is!!)


My Chef's Tips:

When serving, my Chef likes combining this with either rice or boiled potatoes, broccoli, and carrots. Plus, I'll always start with a nice simple garden salad - you know: tomatoes, cucumbers, and lettuce.
(Boy, aren't those nice colours? They'll taste great too!)
And because this is a special dinner for two, be sure to include your favourite wine.
Have a romantic night!
Return from Orange Chicken Recipe
to Chicken Recipes For Two.

Return to Easy Chicken Recipe Ideas