Sweet and Sour
Chicken Breast Marinade


I love new ideas!
This chicken breast marinade is one of those new ideas. With a sweet and sour twist.

---
---
Sweet and sour - just like me and my Chef (One guess as to who my Chef thinks is the sweet one... :P)
There are a lot of beautiful colors, too, in this sweet and sour chicken recipe. Just like the fall season - the best time of the year to go on walks with your loved ones.
Fall is also the season when fresh apples start arriving! And peppers! And onions! The list is endless....
My chicken breast marinade is not only very easy to make, you should have a lot fun when making it.
Right Chef?
Speaking of apples I've added some to this recipe. This is the 'sweet' part. I know we should eat at least one apple a day, so I made it easy for you - today!!
I always use fresh lemons. They're so much more tasty than vinegar. And they contain vitamin C! This is the 'sour' part!
So I've used them in my chicken marinade recipe. It adds a healthy touch.
Have someone help you share making this sweet and sour chicken recipe. It'll be a lot of fun!
And it will taste even better...Right Chef?


Ingredients (Serves 2 marinades):

2-3 chicken breasts (about 600 g)
2 tablespoons of oil
2 apples
2 medium onions
1 tablespoon of curry
Salt and pepper to taste
Fresh parsley, chopped

Marinade:
4-5 tablespoons of oil
Juice from half a fresh lemon
1 tablespoon of sweet paprika
1 clove of garlic
½ cup of chicken bouillon
Salt and pepper to taste
Fresh parsley, finely chopped


Directions:
Add together all of the marinade ingredients in a medium sized bowl. Mix well.



Wash the chicken breasts thoroughly. Dry with paper towels.
Place the breasts on a large plate. Pour the marinade you just made on the chicken. But try to save some left over marinade - I'll show you why later!!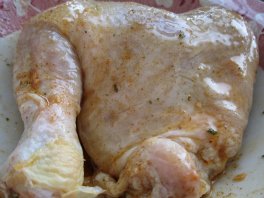 Cover the chicken with either some foil or plastic wrap. Place into the fridge for 2 hours.



Turn the chicken occasionally, so that the marinade sauce is all over the chicken.
Idea: You can see from my pictures that you can use chicken legs if you like instead of breasts....
After the marinade time, remove the wrap covering the chicken.
Over medium heat, sauté the chicken breasts for about 5-6 minutes, on each side.
When done, cut into medium cubes, then set aside.
Preheat the oven to 180°C/356°F.
Wash and dry the apples and onions. Cut both into cubes.
Place the apples and onions on a baking sheet. Sprinkle with curry, parsley, salt and pepper to taste. If you were able to save some of your marinade, pour it over the chicken.
I told you I'd show you why to save some marinade!!!
Bake in the oven for about 30 minutes.


Serving Suggestions:
Place the apples and onions alongside your servings. Drizzle over with any remaining marinade.

Serve this sweet and sour chicken breast marinade recipe with baked potatoes, and a fresh green salad with cucumbers and tomatoes.

Very tasty! Very easy to make!
Right Chef?!
Return from Chicken Breast Marinade
to Chicken Recipes For Two

Return to Easy Chicken Recipe Ideas