Dill Sauce Recipe for
Chicken Legs and Rice



So why am I writing about a dill sauce recipe for chicken legs and rice? I'm very glad you asked!
Back home in my native Poland, dill is very popular. Everyone grows their own in their garden. Every homemaker should have some in their kitchen - well, I think so anyway!!


---
---

We use dill for salads, soups and sauces. It's because it gives recipes extra freshness and flavor. It's very healthy too, providing a good source of calcium and iron.
But I like it for the taste and you will too!


Ingredients (Serves 4 legs):
4 chicken legs
4 tablespoons butter
1 tablespoon of oil
2 tablespoons of sour cream
2 tablespoons of flour
fresh dill
1 cup of rice prepared according to package
salt and pepper to taste


Directions:
Preheat the oven to 200°C/390°F.
Wash the chicken legs thoroughly. Dry with paper towels. Place the legs on a plate and sprinkle with salt and pepper to taste, and then with one tablespoon of flour.



In a medium sized skillet heat 2 tablespoons of butter over medium heat.



Add the oil next - this will make the chicken crispy and tasty!
Saute the legs for 15 minutes.



This is important: we have to save any liquids created while we saute the chicken.
While the chicken is sauteing, you can prepare the rice according to the directions on the package.
Transfer the chicken legs with the remaining liquid to a baking dish. Bake covered for 20 minutes.



In the meantime we can create the dill sauce! In another skillet heat the rest of the butter over low to medium heat. Add the remaining tablespoon of flour.



Stir constantly to prevent any lumps!



When the color becomes golden brown, slowly and carefully add 1½ cups of water. Stir for one more minute.
Next we add the sour cream. Stir well for another 1 minutes. The sauce should be very smooth. Remove from heat and set aside.



Chop your fresh dill...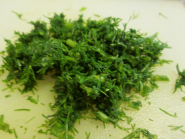 ...and add to the mixture.



Your baking chicken legs should be done by now. So remove them from the oven and remove the cover to let the steam evaporate.


My Chef's Tips:

Place one or two legs on a plate along with a serving of rice. Pour the dill sauce over the legs and rice.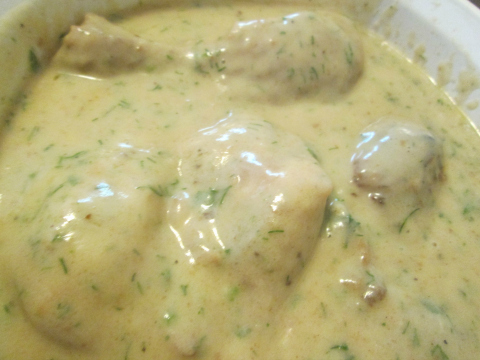 When I served this for my Chef, I surprised him. He always loves a salad with his meal, so because it was late summer, I was to serve a fresh 100% organic salad straight from my garden. We lettuce, cucumbers, tomatoes, parsley and garlic!



It was a wonderful complement to my dill sauce recipe!
Enjoy! Love!


Return from Dill Sauce Recipe
to Chicken Recipes For Two

Return to Easy Chicken Recipe Ideas