Stuffed Chicken Breast Recipe
with Lemon


Wow!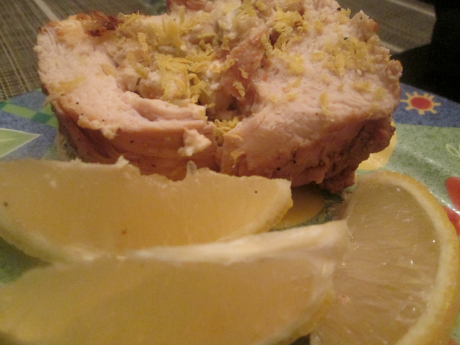 This stuffed chicken breast recipe is incredible!
With delicious feta cheese, onions, mushrooms and tomatoes....I already see my Chef running to the kitchen, it smells so good! Believe me....Chef, woo-hoo I am here!

---
---
This recipe is also a very elegant idea for your table. I highly recommend it. Especially if you would like to surprise someone with a new taste for chicken. This one is the right choice!
This time the serving ingredients are for 2 people, but you can always prepare for more guests when necessary simply by increasing the amounts!
And even though it's actually a serving suggestion, I've added lemon wedges to this stuffed chicken breast recipes. I love lemon! It adds a sense freshness to the meal. And it tastes so good!
Let's start. Et voilà!


Ingredients (Serves 2 stuffs!):

2 chicken breasts
5-6 large mushrooms
1 onion, chopped
150-200 g of feta cheese
6 dried tomatoes
3 tablespoons of oil
Salt and pepper to taste
Vegeta to taste
Fresh thyme
1-2 tablespoons butter
3 cloves of garlic finely chopped
6-8 toothpicks
lemon wedges


Directions:
Clean the mushrooms by washing under running water and patting dry with paper towels. Cut them into large sized pieces

Clean the onion the same way and cut into fine pieces.

Heat some of the oil in a frying pan low to medium heat.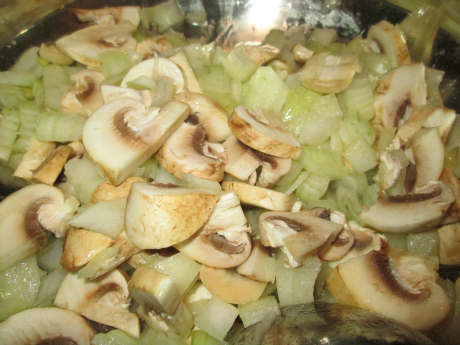 Add the mushrooms and onions.

Sauté. Stir occasionally to prevent any burning.

Crumble the feta cheese into small bits.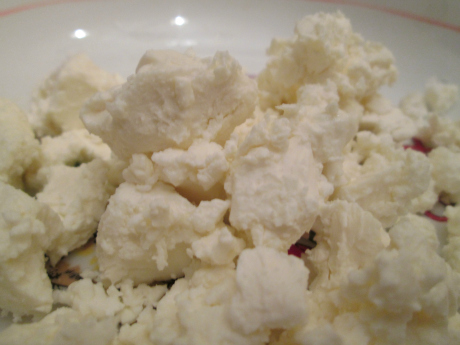 Add to the onions and mushrooms.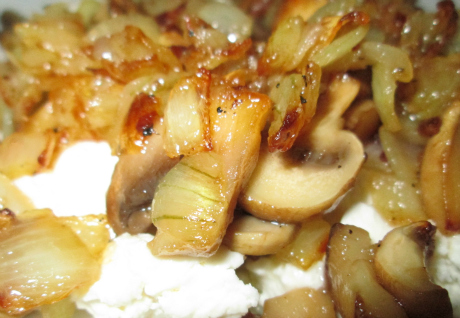 Cut the sun-dried tomatoes into thin strips and add as well to the onions and mushrooms.
Mix everything well.
Season lightly with salt and pepper. Add some Vegeta to taste. Finally add the fresh thyme.
Wash the chicken breasts. Dry with paper towels.
Place your breasts on a cutting board and slice them partly sideways to create the pockets. Season with salt and pepper.



Place the garlic inside the chicken breasts.
Then place the rest of the sautéed ingredients inside: the mushrooms, onions, cheese and dried tomatoes.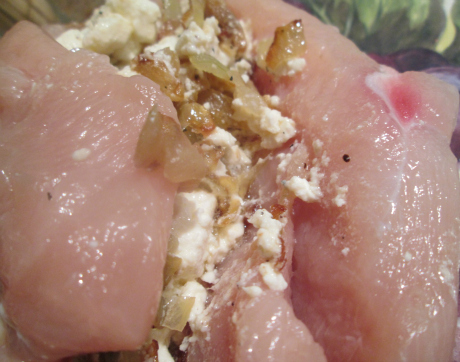 Bundle up the chicken breasts with toothpicks. This is so the stuffing will stay inside and not overflow when cooking!!
In the new pan, heat the rest of the oil over medium heat.
Sauté the chicken on both sides until they get a golden brown color.



This should take around 4-5 minutes.
Add some butter when you're nearly finished sauteing. It help makes the chicken get more crunchy.


My Chef's Tips:

A green salad makes a great starter for this dinner!
For sides, serve with green beans; and rice or potatoes.
Before the final serving, cut the chicken in half and decorate with lemon wedges.
This stuffed chicken breast recipe will surprise and delight even very demanding guests - like my Chef!
Smacznego wszystkim!
Return from Stuffed Chicken Breast Recipe
to Chicken Recipes For Two

Return to Easy Chicken Recipe Ideas