Basic Chicken Salad Recipe!
Thanks Mom!!



Want something easy?
You'll love my Basic Chicken Salad Recipe! Do you know why?


---
---

Because it's a very easy to prepare
You know what else?
It tastes great!!!
This is one of the first salads I made with my Mom. I was just a little girl of 8. (I didn't know my chef then!) I remember when she was teaching me all the steps she warned me to be careful and not to cut my fingers!!
Sometimes I still have to remind my chef not to do that....*sigh* Men!!!


Ingredients (Serves 4 Salads):

2 cooked chicken breasts
8 slices of smoked bacon
Juice from half a lemon
4 fresh green onions
1 clove garlic
1 bag of mixed salad greens
2-3 tablespoons of lemon juice (This is for the dressing!)
Salt and pepper to taste
3 tablespoons olive oil


Directions:
On their own separate cutting boards, cut the smoked bacon and cooked chicken breasts into slices.
Pour the lemon juice just over the chicken.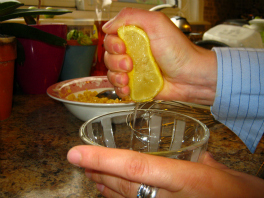 Wash the green onions. Peel away any dried-out outer layers. Chop the onions, while also keeping a portion of the greens.
Put the chicken, onions, and salad greens in a large salad dish.
Next we'll prepare the dressing.
In a bowl mix the lemon juice with salt. Then add the oil. Whisk thoroughly so the oil and lemon emulsify to a thick liquid. Add a touch of black pepper.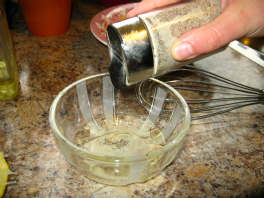 Empty the bag of mixed salad greens into a large salad bowl.
Peel and wash the garlic clove. Crush it in the garlic press.
Heat a skillet over medium heat. Add the cut bacon slices and brown the bacon for 5 minutes. Make sure to prevent the bacon from sticking to the pan! Then, add the garlic and saute for around another 2-3 minutes.
Pour the dressing into another small cooking pan, bring to a boil and simmer 3 minutes, scraping to dissolve the cooking juices.
Season the salad with the hot mixture and mix gently.
Scatter with bacon and garlic mixture.


My Chef's Tips:

Serve immediately with cooked rice, or baked potatoes.
If you have a little more time, you could make your salad from lettuce, cucmbers and tomatoes, instead of using the bag of prepared salad greens!

Now, of course, we're all grown up: so I hope you didn't cut your fingers making my simple, easy, basic - and very tasty - chicken salad recipe!
Thanks, Mom!!
Enjoy, Everyone!!!
Return from Basic Chicken Salad Recipe
to Chicken Salad Recipes
Return to Easy Chicken Recipe Ideas