Chicken Pasta Salad Recipe
And My Chef's Special Dressing


My Story?!

Well I had leftover chicken, so I made this AWESOME chicken pasta salad recipe!
---
---
In summertime, I love eating just-picked veggies straight from the garden taking advantage of all the fresh vitamins. Especially when the season is so short here in Canada - well - I think it's too short!

That's why I decided to add just a touch of fruit to my salad. It gives it a special taste - and a special flavour. It adds a nice 'explosion' of colors!

Also very special: I get to include my Chef's very elegant and very tasty salad dressing. Making it couldn't be simpler!

And there's no better dressing for my chicken pasta salad recipe!...

What are you waiting for?! Summer will be over before you know it! :)

Ingredients (For 2 chicken salads):
1 cooked chicken breast
200 g of pasta
1 medium lettuce
2 red small tomatoes
2 orange small tomatoes
2 medium cucumbers
1 green onion
50 g of cheese
2-3 carrots
2 asparagus
1 clove of garlic
1 mushroom
2-4 raspberries
salt and pepper to taste
parsley
pumpkin seeds

Ingredients for my Chef's Special Dressing:
¼ cup lemon juice
¾ cup vegetable oil
½ teaspoon of salt

Directions:
We start this easy chicken recipe by filling a cooking pot with 4 cups of water and one teaspoon of salt. Bring to a boil.

Add pasta and boil for 5 to 7 minutes or until pasta is tender. Drain water from pasta and set aside.

In the meantime, wash and dry all your veggies.

Chop the lettuce into bite size pieces. Begin to place in a large serving bowl.

Next slice all the tomatoes and add to serving bowl.

Slice the cucumbers thinly and continue to add to bowl.

Chop the green onions. Add to bowl.

Cut the cheese into small cubes. Add (you know where!)

Grate carrots and sprinkle over salad.

Break and remove the end off the asparagus'. Throw these ends away. Cut the rest of the asparagus into small slices.

Chop the garlic into small pieces.

Slice the mushrooms.

Make sure to add everything you've chopped so far into the bowl!

Salad Dressing:

Combine the ingredients for the salad dressing into a reusable glass bottle using a funnel. Seal the bottle securely and shake well.

Final Steps:
Chop the cooked chicken breast into small pieces. Add this and the pasta to salad. Toss lightly.

Finally, finely chop the parsley. Add this, and some pumpkin seeds to the salad. Season with some salt and pepper.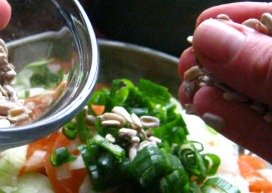 Pour the some of the salad dressing over the salad. Save any leftover dressing in the fridge.

Toss the salad well and garnish with the raspberries - you can slice these first if you like.

Serve this chicken pasta salad recipe just like it is - you need no extras!!

It's really that good!

Enjoy.
Return from Chicken Pasta Salad Recipe
to Chicken Salad Recipes

Return to Easy Chicken Recipe Ideas