White Kidney Bean Soup Recipe
With Chicken Bouillon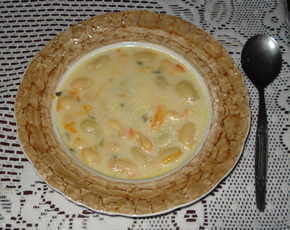 What's perfect anytime?
My kidney bean soup recipe! With chicken of course!
So: perfect how?
Perfect for summer; perfect for winter time.
When I was young back home in Poland, every Friday my family would have a bean soup recipe. It was always so delicious. I would wait in excitement the whole week for Friday to come!
This chicken and white bean soup is very nutritious too. It's loaded fibre, calcium, iron, vitamins A and C and has no fat.
It is very easy to make.
Eating it at least once a week gave us all the nutrition and vitamins to keep us in shape and healthy.
You'll be giving your family all the same vitamins when you make this soup for them.
Perfect!


---
---
Ingredients (Serves for 4 soups)
2 cups of beans
4 chicken wings for bullion
2 onions
3 carrots
1 potato with skin peeled
2 celery stalks
1 can of peeled tomatoes
4 peeled garlic cloves
2 bay leaves
3 tablespoons of oil
Salt and pepper to taste
2 tablespoons of flour
2 tablespoons sour cream
Fresh parsley finely chopped

Directions:
Soak beans overnight.
The next day cook with the same water. Boil on high heat for 10-15 minutes.
This will clean them better. It will make a froth rise to the top. Scoop this froth away completely. We then drain and wash the beans thoroughly.
This little step gives the white beans a better taste and look!
Wash chicken thighs and dry with paper towels. Trim the fat.
Place the chicken into a medium sized pot. Fill the pot with 8 cups water and bring to a boil over high heat. When this happens, turn the heat down to medium and cook gently.
Add the beans to the simmering chicken.
Wash all the veggies and cut into thick pieces.
Then we add all these veggies and the peeled tomatoes, garlic, bay leaves, oil, salt and pepper to the pot. We continue cooking for about 40 minutes on a low to medium heat.
With the 2 tablespoons of flour and some water, mix together into a paste and add this into the soup. Make sure to stir constantly.
Finally, you can add the 2 tablespoons of sour cream. It will be delicious! :)


Serving Suggestions:
Before serving, remove the chicken wings from the soup and take away the bones. Cut the remaining chicken into small pieces and add back into the soup.
Place the soup into soup bowls and add some fresh chopped parsley on top.
When I had this back home, we always had crepes for dessert afterwards. It was a perfect meal for the end of the week!
But you can choose your own desserts to follow this bean soup recipe to create your own perfect dinner. Let me know what you had!


From
Monika's Kitchen
to yours
with lots of love!
Return from Bean Soup Recipe with Chicken
to Chicken Soup Recipes

Return to Easy Chicken Recipe Ideas