Chicken Vegetable Soup Recipes: Something Everyone Will Enjoy!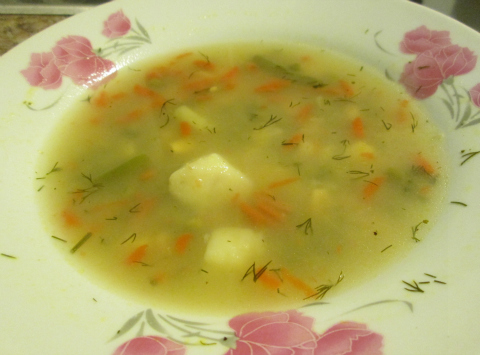 Of all the chicken vegetable soup recipes out there, this is one your family and friends will really enjoy.
I hear you say: vegetable soup?
Why not?

---
---
Home made soups are the best. And the soup recipes on my site are like my other recipes: Easy!!
I make this more often during winter time when days are cold and long. And dark (but dark could be romantic too, right Chef? ;)
It's also because we need more vitamins in the cold season. And by preparing soups, you give your body enough nutrition and vitamins.
It's very colorful too. This is nice especially in the wintertime when there's too just much gray outside.
So warm yourself and your loved ones up with this delicious, healthy soup!


Ingredients (Serves 4 - 6 vegetables):
½ fresh medium chicken
1 onion
2 tablespoons wheat flour
¼ teaspoon ground hot pepper to taste
2 tablespoons olive oil
1 tablespoon butter
1 carrot, chopped
1 parsley root, chopped
1.5 liters chicken broth from chicken broth cube
Pinch of saffron
100g pasta "noodles", cooked
2 egg yolks
½ cup lemon juice
2 tablespoons chopped parsley
Salt and pepper to taste


Directions:
Wash the chicken thoroughly and dry with paper towels. Chop into pieces.
Chop the onion into cubes.
Mix flour with ground hot pepper, and some black pepper.
Heat olive oil over low to medium heat in a pot.
Add butter, the chopped onions, and the flour and pepper mixture. Add a little bit of water - one tablespoon. This keeps the onions from burning. When they are lightly brown, then add the chicken pieces.
Get the chicken pieces to a light brown color as well - keep an eye on it!
Remove chicken from pan and keep it in a warm place.
Add the chopped carrot and parsley root. Saute for 7 minutes. During that saute time and after about two minutes, add some water to help these 'hard' vegetables become soft inside.
Prepare the chicken broth from the instructions of the chicken broth cube. When that's done, put the chicken back into pot and add the chicken broth.
Cook everything until it's soft.
Next add saffron. To do this, mix the saffron with 2 tablespoons of hot water first, and wait until the mixture is lukewarm.
Remove chicken and cut into smaller pieces.
Add back the chicken pieces. Then add cooked pasta, egg yolks and lemon juice.
Cook for 2-3 more minutes.


My Chef's Tips:

Sprinkle with parsley, and a tiny bit of salt and pepper to taste.
The ingredients for these chicken vegetable soup recipes are very flexible. This means you can get very creative.
In the summer time, I'll even add some dill instead of parsley. This is because it grows in my own garden!!
You can also substitute potatoes for pasta when they are in season.
Lots of ideas - but first: time to eat!
Enjoy!
Return from Chicken Vegetable Soup Recipes
to Chicken Soup Recipes
Return to Easy Chicken Recipe Ideas