How To Make Pasta
with Chicken and Tomatoes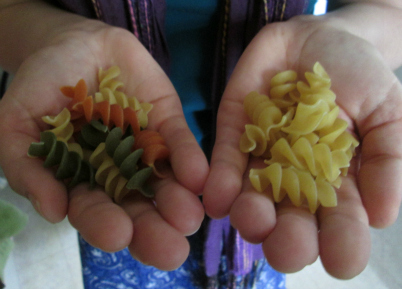 Here I show how to make pasta with chicken and tomatoes!
From the feedback from my readers, what I can see is that most of you are working. So I know how hard it can be to balance your busy life between your family, work, and things like cooking. It's not always easy.
So...

---
---
I came up with another very easy chicken recipe.
That's right!: This recipe does not require any special skills. Anyone can make this right away!. (Even my Chef!)
So, how to make pasta with chicken and tomatoes?
You are about to find out!...
We're all looking for something fast, but healthy to eat. And, as you already know, pasta, chicken, and tomatoes can be a lot of fun. And a healthy meal for the entire family too.
My Chef, loves pasta... I know it. But this is not only for lovers of pasta.
It's for those who love a delicate tomato flavor. It's for those who love chicken bathed in cream! Mmmm!!
And it's for those who love almonds!!
How's that?!
Add some fresh herbs and we're all set....


Ingredients (Serves 2-4 Chicken tomatoes):
400 g of chicken breast
1 medium onion
olive oil
1 clove of garlic
400 g of canned tomatoes
2-3 bay leaves
1 tablespoon of oregano
2 tablespoons of tomato paste
1 teaspoon of sugar
2 tablespoons of butter
80g of almond flakes
300 ml of cream
300 g of green pasta tagliatelle
2 tablespoons of fresh chopped parsley


Directions:
Wash the onion. Dry with paper towels.
Chop the onion into very fine slices. Add some olive oil in a pan saute the onion until it gets soft and has a great light, brown color.
Chop the garlic and add to the onions.
After a minute or two, pour over the tomatoes. Add the bay leaves, oregano, tomato paste, an sugar. If you like, season with a little salt and pepper to taste.
Mix well and let simmer on low to medium heat for about 15 minutes.
Wash the chicken breasts. Dry with paper towels.
Cut the chicken into strips.
Melt the butter in a pan over low to medium heat. Add the sliced chicken breasts and the almonds. Again, season, if you like with some salt and pepper. Continue to saute for about 10 minutes.
Add the cream into pan and let it simmer and bubble. Cook for about another 10 minutes.
Meanwhile, we have to prepare the final and most important ingredient: our pasta.
This will have the instructions on the box. Generally use 4 - 6 cups of water with one teaspoon of salt. I also always add a little drop of oil into the water so that the pasta doesn't stick.
Cook the pasta al dente. This means to boil the pasta for about 7 - 8 minutes.


Serving Suggestions:
After your pasta is done, start calling your family for dinner! Me, I call my Chef (But he's usually already waiting at the table!)
Place some pasta on a plate.
Then pour over some the creamy, almond, chicken mixture!!
Next, add the tomato sauce on top of the creamy chicken sauce.
And as our final touch, sprinkle with some fresh chopped parsley.
This is how to make pasta with chicken and tomatoes!!!
Enjoy!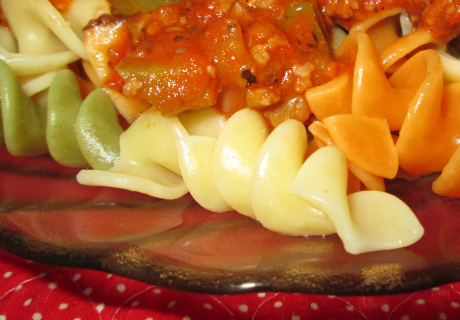 Return from How To Make Pasta
to Chicken and Pasta Recipes

Return to Easy Chicken Recipe Ideas