Roma Chicken With Pasta!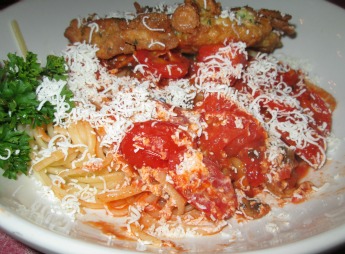 With Roma Chicken, there's always something for everyone, even for the most demanding gourmets!
---
---
And you'll be surprised at how easy and tasty it is. Of course, a combination of pasta, herbs and chicken will always be a treat anytime.
My inspiration for this pasta roma chicken recipe comes from my days when I was living in Europe. I was in Rome as a tourist. I always wanted to take in the culture, see old buildings, and meet new people.
So in my travels I got to visit the Vatican, the Colosseum, the Pantheon, the Fontana di Trevi and the Sistine Chapel! It was a wonderful experience!
Of course, after all that sightseeing, I visited a restaurant - but I wish I could remember the name! All I remember is that I wanted something very Italian - lots of pasta and tomatoes. And I was in the mood for chicken at the same time.
I remember how much I loved the combination of all the different flavors and textures!
So I came up with my own version. And now I like to share it with you!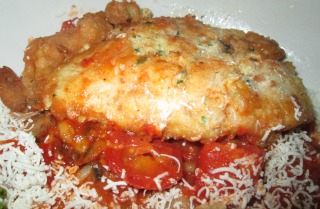 Ingredients (Serves 4 romas):
4 chicken breasts (remove the skins)
2 tablespoons olive oil
1 medium onion finely chopped
1 garlic clove, also finely chopped
16 cherry tomatoes
3 tablespoons of red wine
2 teaspoons balsamic vinegar
Salt and pepper to taste
1 tablespoon chopped fresh basil
1 tablespoon chopped fresh thyme
300 g of long pasta
Parsley finely chopped


Directions:
Add 1 tablespoon of oil in a medium saucepan and heat over medium heat.
Add the onion and garlic. Sauté about 3 minutes. Both the onion and garlic should be tender, and have a beautiful golden colour.
Add about 8-12 cherry tomatoes, wine, vinegar, salt, and pepper and bring to a boil.
Reduce heat, and simmer for 10 minutes or until the sauce becomes nice and thick. Stir occasionally. Set sauce aside when done.
We're now going to prepare the chicken.
In a small bowl combine the basil, thyme, and some pepper to taste.
Wash the chicken breasts. Dry with paper towels.
Sprinkle the chicken with the herbs mixture we just made in the bowl. Sprinkle on the top and on the each side of the chicken breasts.
Add the other tablespoon of oil in another pan and heat over medium heat.
Place chicken breasts in pan. Sauté each side for 3-4 minutes until they're thoroughly cooked and tender.
Finally we'll prepare the pasta.
Add 5 cups of water into a medium sized pot and bring to a boil. Add some salt to taste - about one teaspoon. Add pasta and cook until tender, about 7-8 minutes. (Follow the instructions on the package itself if you're not sure)!
When you're finished cooking, drain the pasta in a colander.


Serving Suggestions:
Add some pasta to the bottom of a deep plate. Pour a little sauce over top. Add a few of the leftover cherry tomatoes as decoration. On top of the pasta place one cooked chicken breast and sprinkle with parsley.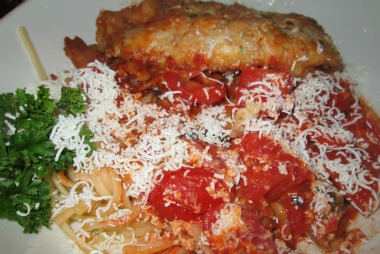 And there we have it...Some Roma Chicken souvenir on the table!
Buon appetito!  :)

Return from Roma Chicken With Pasta
to Chicken and Pasta Recipes

Return to Easy Chicken Recipe Ideas