Easy Ratatouille Recipe
With Chicken


Easy Ratatouille Recipe!
Who does not remember the famous Ratatouille movie? If you're like me, I'm sure you know and love it. So that's why I've decide to add a Ratatouille chicken recipe especially for you!

---
---
Chicken, pasta, and veggies. A great combination of protein and vitamins. A healthy meal and good habits!

Eating well? Even when trying to make something very simple? I assure you it's possible. (And because my Chef loves pasta, it makes my life easier :P).

I'm sure this easy chicken ratatouille recipe will be different enough to offer you a nice change from your usual routine. We have to avoid boredom in the kitchen you know!

I can't wait to hear your ideas about my recipe!





Ingredients (Serves 8 ratatouilles):
5-6 boneless, skinless chicken breasts,
2 tablespoons olive or vegetable oil
1 green pepper, cut into strips
1 1/2 cups diced eggplant
1 zucchini, thinly sliced
1 small jar of pasta sauce (Tomato & Herb)
2-3 tablespoon of dry white wine (optional - especially if you're serving children - like my Chef!)
3 cups penne rigate, or mostaccioli
Salt and pepper to taste
Grated cheese (optional)
Dried parsley


Directions:
Wash chicken breasts thoroughly. Dry with paper towels. Cut them into ½ - inch slices; or just medium sized cubes.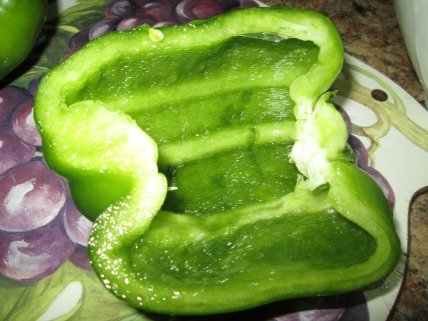 In large saucepan over medium-high heat, heat the oil. Add chicken and green pepper strips.
Stirring frequently while cooking, until chicken is no longer pink.
Add the eggplant and zucchini. Continue cooking for about 3 more minutes. Stir frequently, or until vegetables are tender.
Stir in pasta sauce; heat to boiling. Stir to keep from burning. If you're also adding the white wine, now is the time to do it!
Add a touch of salt and pepper.
Reduce heat. Simmer, uncovered, 10 minutes; or until chicken is cooked thoroughly.
In the meantime, cook the pasta according to the package directions. Drain and rinse when done


My Chef's Tips: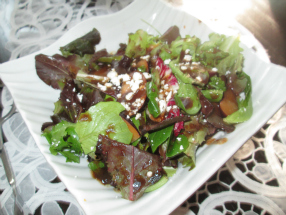 This easy ratatouille recipe goes great with a little garden green salad as a starter.
To serve, put some pasta on a plate and spoon the chicken veggie sauce over it. Sprinkle with cheese, if you like. Repeat!
That's it - that's all there is to it!
Bon Appétit mes bons amis!
Return from Easy Ratatouille Recipe
to Chicken and Pasta Recipes

Return to Easy Chicken Recipe Ideas