A Pistachio Chicken Breast Recipe
For the Nut in You!!!



This pistachio chicken breast recipe is from my friend Philippe and his wife Frédérique from Rennes, France.


---
---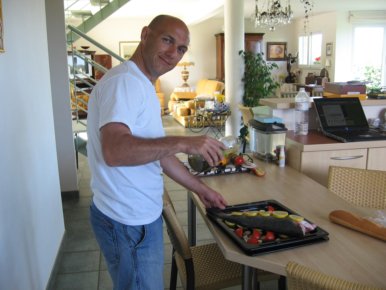 He sent this special recipe to me to put on my site.
What's so special about pistachios - other than that it can be a fun word to say sometimes?!

They're a great source of vitamin E which is important for healthy and beautiful skin. And because it has Vitamin E, it can protect it from UV damage. Pistachios also contain vitamins A and B6. So they can be beneficial to a regular diet.

But pistachios are also fun to add to recipes! They combine very well with chicken, as my friend Philippe will tell you. I like them too because they add a nice crunchy texture.
Now that it's finally up, I hope he will be very happy!
Merci beaucoup mon cher ami Monsieur Philippe! J'apprécie beaucoup de partager ta recette avec mes lecteurs!


Ingredients (Serves 4 pistachios):
4 medium chicken breasts
100 g of pistachios
2 clove garlic
300 g rice, cooked
20 g of butter
2 tablespoons of olive oil
1 tablespoon of powdered sugar
Directions:
Cook the rice in simmering water with bouillon cubes.
Wash the chicken breasts completely and dry with paper towels.
Cut the chicken breasts into strips. Peel and chop the garlic. Finally, coarsely chop the pistachios.
In a pan, sautée the garlic in olive oil. This takes only a short time. Garlic burns easily if left unattended. So pay attention, Chef!
Add the chicken and pistachios 3 minutes before the end of cooking.
When the chicken breasts are done, mix with previously cooked rice, drained and buttered. You'll know the chicken is done when there are no more red colors or liquid.
Add salt and pepper to taste.
Sprinkle very lightly with powdered sugar!


My Chef's Tips:

I have no tips for this recipe because it is very complete in itself.
Sorry Chef! :P

Bon Appétit!
Merci encore une fois Monsieur Philippe and Madame Frédérique! :)
Return from A Pistachio Chicken Breast Recipe
to Fried Chicken Recipes
Return to Easy Chicken Recipe Ideas