Stuffed Zucchini Recipe
With Chicken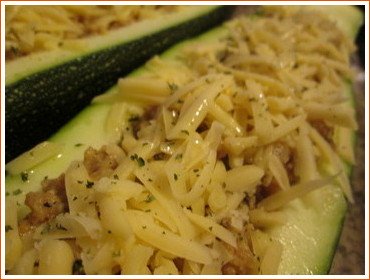 Why am I making a stuffed zucchini recipe with chicken?!
---
---
I received a big zucchini from my neighbor, Martin. He's from Hungary. (Thank you, Martin!) He's a very generous friend and always thinks of me when he has something extra from his garden. I'm sure we all know someone who's generous like that!
So I was thinking: what will I do with this? Hm...?
It's fresh and organic. It would be crazy to waste such a good zucchini.
So I've decided to make a stuffed zucchini recipe. A stuffed chicken zucchini recipe!
And why not?! My Chef wanted something new and delicious.
And boy was it delicious.
And satisfying!
And filling!!
I had enough left over to take to work with me for lunch the next day. Everyone around me would ask if I made that myself!!!
I love to experiment with new and really simple recipes.
And simple this is!
Believe me, when I first made this, it was after work. And I was tired. But this only took me about 20-30 minutes to make.
No matter how busy your schedule is: You can make this too!!!


Ingredients (Serves 2 zucchinis):

2 medium zucchini
3 tablespoons of oil
1 medium onion
1 chicken breast
3 mushrooms
3 tablespoons of breadcrumbs
1 raw egg
1 tablespoon chopped fresh parsley
1 package of prepared mushroom sauce
Salt and pepper to taste
50 g grated cheese
freshly chopped parsley to sprinkle on the top


Directions:

Preheat oven to 200 °C/392°F.
Slice the zucchini lengthwise. Hollow it out, but leave about 1 inch to the edge so it will still have some firmness. Save the hollowed out part in a bowl because we're going to use this later! Waste not!!



Place the zucchini halves on a baking sheet.
Brush the hollowed zucchini with oil.
Peel and wash the onion. Slice into layers.
Wash and slice the mushrooms.
Wash the chicken breast and dry with paper towel. Cut into small cubes.
Saute the onion in oil over low to medium heat. Add the mushrooms, chicken breast and the zucchini bits we saved in a bowl. Warm thoroughly.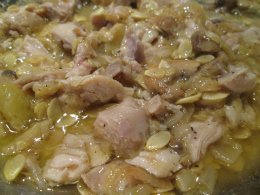 Everything is melting nicely! See?!


Then add the ​​breadcrumbs, egg, parsley and mushroom sauce powder. Season with salt and pepper. Continue to mix thoroughly.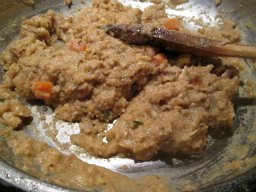 When everything is heated well, start to fill the zucchini halves. Sprinkle with cheese on top.



Place the stuffed zucchinis into preheated oven.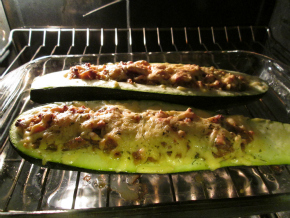 Bake for 25-30 minutes until golden brown.


Serving Suggestions:

As you can see, when I had one of the stuffed zucchinis, I sprinkled some parsley on top and had it with 2 baked potatoes and a little vino.
And because it was such a lovely day, I had everything out in my backyard.
So next time, when a generous friend or neighbor, has a zucchini offering from their garden, you can make stuffed zucchini recipe with chicken!
Return from Stuffed Zucchini Recipe
to Quick Easy Chicken Recipes

Return to Easy Chicken Recipe Ideas