Spring Salad Recipe
With Potatoes And BBQ Chicken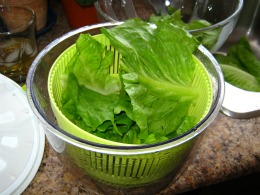 Spring is here!
Time for my spring salad recipe. With new potatoes and BBQ chicken! What else?
---
---
It's now spring as I write this - as you might have noticed! After winter we're all tired...so we need a pick-me-up to give us some energy. This recipe is an answer for your S.O.S. calls!
For all who those who like to eat healthy, I came up with this recipe. This salad and chicken recipe was a great surprise when I first served it to my friends! I know it will be the same for you and everyone else who likes a nice, simple meal.
I'll say it again:
Spring is here, so time to change your diet!
So, sort out your kitchen utensils, roll up your sleeves and get started!
I'm sure you'll be very pleased with your results - I promise you a delightful taste and gorgoues colours!


Ingredients (Serves 4 potatoes):
2 chicken breasts
800 g of potatoes
1 cup of chicken broth
4-5 tablespoons white wine vinegar
salt and pepper
4 tablespoons olive oil
2 green onions
150 g of cucumber
7-8 radishes
200 g watercress
3-4 tablespoons pumpkin seed oil


Directions:
Wash potatoes. But don't peel them!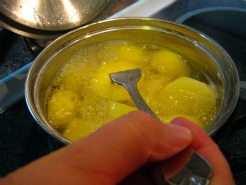 Boil the potatoes in salted water. Set aside to cool. Now we peel them!
After peeling them, we cut into slices. Place into a baking dish.
Boil the chicken broth with the white wine vinegar. Add salt and pepper.
When it's boiling, add the olive oil and green onions. Mix well. Then pour this over the potatoes. Allow to stand for an hour.
Wash and dry the chicken breasts. Season with salt and pepper. Barbecue both sides until nice and crispy. Then wrap in aluminum foil and set aside for 4-5 minutes to keep warm.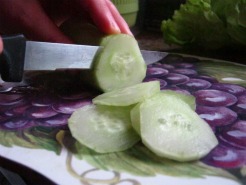 Slice the cucumber and radishes. Tear the watercress leaves into bite size pieces.
Place everything into a salad bowl, mix well. Season with salt and pepper to taste. Drizzle with the pumpkin seed oil and toss well.
Remove the foil from the chicken breasts. Cut the chicken into strips and lay over the salad.


My Chef's Tips:

Serve with the potatoes side by side.
I guess what my Chef is trying to say about my spring salad recipe is that it's good as it is on its own.

Enjoy!
Return from Spring Salad Recipe
to Barbecue Chicken Recipes
Return to Easy Chicken Recipe Ideas