Another Recipe For
Chicken Fajitas!!


This recipe for chicken fajitas you'll find here is a very simple idea. Especially if you have no idea what to prepare!
Aren't you glad you're on my site?!

You'll absolutely this easy chicken recipe!


---
---

Not only is super delicious and healthy, it appeals to you other senses as well. The vegetables add color - as you can see - which I really love. And the tortillas add to the different textures in this meal.
Isn't this a great idea?
An idea with results that win medals! (What would my Chef do without me?!)
Are you still waiting?...
Get cooking and win that medal! :)


Ingredients (Serves 4-5 other fajitas):
3 medium chicken breasts: boneless, skinless
2 peppers: yellow and red
1 large tomato
2 medium onions
1 garlic clove, chopped
1-2 tablespoons of oil
100 g of salsa seasoning
¼ cup water
fajita seasoning to taste
salt and pepper to taste
1 tablespoon of parsley, finely chopped
4-5 wheat tortillas
2-3 tablespoons of grated cheddar cheese (my choice!)
Cooking Utensils You'll Need:

measuring spoons and cups
kitchen knife and chopping board
skillet
cooking spoon


Directions for My Recipe for Chicken Fajitas:

Peel and wash all veggies.
Cut the peppers into strips.



Slice the tomatoes and onions into slices, as fine and thinly as you can.



Peel and rinse off the garlic. Chop into small pieces.
Wash the chicken breasts thoroughly. Dry with paper towels. Cut the breasts into long strips!
Heat a skillet on low-to-medium heat with a little oil. Add the chopped garlic and chicken. Cook until the chicken gets a nice, light golden color.



When that happens (that is - the chicken gets the colour!), add all the vegetables and salsa seasoning.


Now read carefully:
Add some water...BUT!...only if needed. We just need to make sure that all the ingredients are cooked thoroughly. But we want to make sure there's going to be a beautiful sauce coming from all this.
Keep cooking until the vegetables are crisp, yet tender.
When you're done, season everything with the fajita seasoning, salt and pepper.
Then, sprinkle with parsley.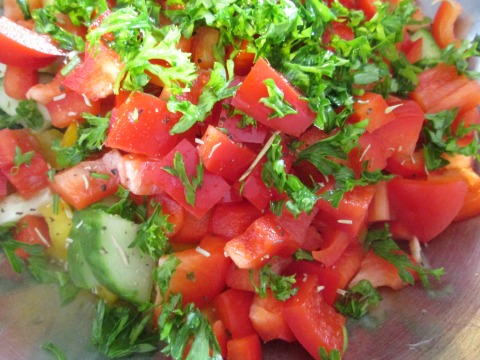 My Chef's Tips:


We're almost done! This is a nice colorful touch...
Place the tortillas on a plate.
Spread the chicken and veggie mixture over tortillas.


And now for the medal…..To finish off this recipe for chicken fajitas, garnish with the grated cheese.


Of course, it's best to do this when you're serving everything hot and warm.
Why?
Easy!
It melts the cheese better! :)
Enjoy!!!

Return from this Recipe For Chicken Fajitas
to Quick And Easy Recipes
Return to Easy Chicken Recipe Ideas