Potato Pancake Recipe
and Chicken Stew



Potato pancake recipes are a favorite of mine! I always looked forward to dinner when I knew we were having them. Back home in my native Poland they're known as placki ziemniaczane. They're an East European dish and very popular!


---
---
But this is a chicken recipe website! Then I had an idea! (Don't I always, Chef?)
Why not make a chicken stew as a kind of dressing to liven things up?
Well why not? Let's go!


Ingredients (Serves 3-4 pancakes):
8 chicken breast fillets
6-7 medium potatoes
2 onions
2 garlic cloves
3 eggs
5-6 tablespoons all-purpose flour
1 teaspoons salt
Pepper
1 teaspoon of vinegar
olive oil
3 mushrooms (sliced)
1 teaspoon of butter
green onions


Directions:
Peel the potatoes.



Cut into chunks.



Wash them and put into your food processor. Process until there are no solid pieces. Leave in the processor when done.



Peel and wash one onion. Cut into chunks. Peel the garlic and cut in half.



Put the onion and garlic into the food processor with the processed potatoes. Process for about five minutes.



Remove the potato mixture from the processor and place into a large bowl. Crack open the three eggs over the potato pulp.



Add some salt and pepper. Add the flour. The potatoes will get dark if left alone too long, so now add the vinegar to prevent that from happening. Mix everything together well.
In a nonstick skillet over medium-high heat, heat some olive oil. The potato pancake needs to be crispy, not too large or too small. Pour enough of the potato mixture to make a pancake that will be about 4-5 inches in diameter. Saute about 4-5 minutes on both sides each. Pancakes should be a golden brown color when done so let that be your guide for how long to saute!



Now for our chicken stew:

Cut the remaining onion into small slices. Saute in another skillet in butter over medium heat. When the onion becomes a light golden color add the sliced mushrooms. Saute everything until it becomes a golden color. You may need to add more butter occasionally to prevent burning. You may add some salt and pepper for a little extra taste. Lower heat to the lowest setting and let simmer.



Wash the chicken fillets. Cut into chunks.



In a new skillet over medium heat with butter, saute the chicken until golden and lightly crispy. This will take about 20 minutes.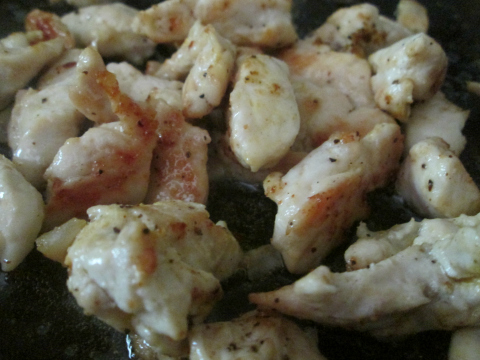 In a bowl, add one half cup of water and 2 tablespoons of flour. Mix well.



When done, add the flour mixture to the sauteing chicken. Mix gently. Add the sauteing onions and mushrooms. Then add an extra half cup of water and cook for one more minute. Of course be sure to prevent anything from burning. Keep stirring until the sauce becomes lightly thickened.


My Chef's Tips:

To serve our potato pancake recipe, place one or two pancakes on a plate and cover with some of the chicken stew. Slice the green onions and sprinkle over top.



Serve with a pickle!
Mmmm!!!! The best!!


Return from Potato Pancake Recipe with Chicken Stew
to Fried Chicken Recipes

Return to Easy Chicken Recipe Ideas