Maple Syrup Chicken BBQ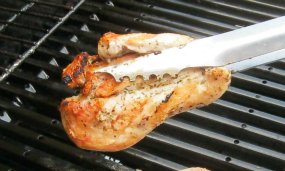 Maple Syrup Chicken?!
BBQ??
What's going on here?

---
---
Well since I'm now living in Canada, I thought it was time to incorporate on its national treasures into my chicken recipes.
And since it's summer again as I'm writing this, I thought it be perfect to include it on of my barbecue recipes.
How did I come up with this?
I was making Crêpe Suzette and pouring maple syrup over it.
And then I thought...hmmm...since I make a lot of chicken recipes, why not try combining these two?
My idea was to use it as a marinade!
So here is my Maple Syrup Chicken BBQ recipe. A real Canadian recipe using maple syrup!
From my new Canadian heart to yours...
Enjoy!

Ingredients (Serves 2-4 syrups):
4 chicken breasts
salt and pepper to taste
For the BBQ marinade:
5 tablespoons maple syrup
1 tablespoon of tomato paste
1 tablespoon soy sauce
1 teaspoon lemon juice*
½ teaspoon lemon rind*
1 chopped green onion
½ teaspoon dry parsley
*You can substitute oranges for the juice and rind; or even go halves: a bit of each!
Directions:
Wash chicken breasts. Dry them using paper towels.
Rub breasts with salt and pepper.
The next step is to make the marinade.
This is very easy!
Simply combine all marinade ingredients in a medium sized bowl.
I told you it was easy.
The only part that might need some explanation is the rind:
Here you just rub the un-peeled lemon (or orange; or both) against a grater so you have enough powder for the marinade.
Mix the marinade ingredients well.
Place the chicken breasts in a bowl.
Now pour over the marinade we just made. Make sure all the breasts are evenly covered.
Place the coated chicken breasts into the fridge for at least an hour. But for the really absolute best flavour you should let them marinade overnight.
When you're ready to cook, heat your BBQ grille.
Grill the chicken breasts evenly on both sides for 7-8 minutes.
If there is any leftover marinade in the bowl, you can brush it over the breasts while you are grilling them.
You should end up with a lovely juicy, golden brown chicken breast.
This recipe goes perfectly along with some grilled veggies and a nice seasonal garden salad!!
From my new home in Canada, enjoy my maple syrup chicken BBQ.
Return from Maple Syrup Chicken BBQ
to Barbecue Chicken Recipes
Return to Easy Chicken Recipe Ideas