How To Make Chicken Nuggets



Want to know how to make chicken nuggets?
I bet your kids do!!
You will too! Here's why:
it's very easy
it's affordable
it's fun
they taste amazing!

---
---
---
---

Treats like this are so much better when you make them yourself! It gets harder every day to make our loved ones stay healthy and only put good food inside them.
This way you know what you're giving your children.
And because this is such a fun tasty recipe, your kids will be eager to help Mom out! This is a great family recipe because you can get creative with the herbs and seasonings - pick those that everyone likes and you'll have the perfect winner every time!


Ingredients (Serves 4 Nuggets):

3-4 skinless, boneless chicken breasts
3-4 tablespoons of flour
cumin and your choice of herbs
2- 3 tablespoons of olive oil
2 whole eggs "beaten" with fork
salt, pepper to taste

Cooking utensils you'll need:

sharp cooking knife
chopping board
mixing bowl
baking sheet
2 large plates
tongs

Directions on how to make chicken nuggets:

Preheat oven to 190°C/375°F.
Wash the chicken breasts and dry with paper towels. Trim excess fat.
Cut into medium size pieces: about 4 to 5 cm (2 inch) squares.
In a bowl, mix the flour with salt, pepper, and herbs.
Prepare 2 plates. On the first one place the two beaten eggs. On the second, the flour and herbs mixture.
Place the oil on to a baking sheet with a high rim. Heat in oven for no more than 5 minutes. Check often to make prevent the oil from burning while your doing the next step.
Roll chicken pieces first in the eggs. Then, roll in the flour and herbs mixture. Be sure chicken nuggets are evenly covered!
When that's done, remove the pan from the oven and put nuggets on the hot oil. Roast in the oven for 25-30 minutes. Turn over after the first 15 minutes. They should be crispy with a nice golden color.
My Chef's Tips:


Remember, adding your favourite herbs you love will give you and your kids a yummy, tasty nuggets you can only get at home!
Of course, these will go great with dipping sauce!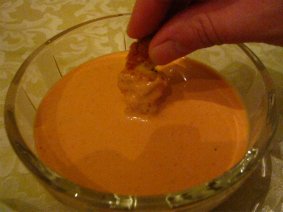 ---

I make this on my Facebook page too!
Check it out - click here!!
---

Bon appétit!
Return from How To Make Chicken Nuggets
to Chicken Recipes for Kids

Return to Easy Chicken Recipe Ideas