A Very Chic
Chicken Livers Recipe with Walnuts Appetizer



Did you ever think a chicken livers recipe with walnuts could be chic?
Well it is - if - you make a pate! Stay here - this is easy. I promise!
If you're planning a casual afternoon get together, you've just found the perfect recipe to serve your friends.
Very light. Very elegant.
But my chef won't touch this because of the wine. If you're like that too, you can substitute chicken bouillon. Either way this will be wonderful dish to serve!

---
---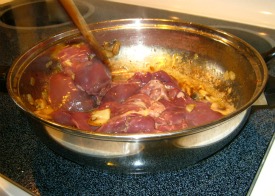 Ingredients (Serves 6 walnuts):
200 g chicken livers
1 tablespoon melted butter
6 tablespoons wine (or bouillon)
50 g sour cream
150 g of butter
salt and pepper
100-200 g walnuts
50 g shallots
3 tablespoons lemon juice sugar
3 tablespoons walnut oil
¼ head of endive or lettuce


Directions:
First wash and dry chicken livers. For best results soak in milk like I tell you on my tips here.
Sautè the livers fry in butter for 5 minutes over low to medium heat.
Pour wine (or bouillon) over the livers and simmer to let it soak into the livers.
Add sour cream to livers and mix well.
Pour the entire mixture into a sieve. Be sure to have a bowl underneath to save the juices because we will use this later to finish our recipe. Stir the liver and cream mixture until it's completely strained through the sieve. This will happen because the chicken liver is very soft.
Beat the 150 grams of butter with a food processor until it becomes nice and creamy. Add the chicken liver mixture to the butter slowly, maybe one tablespoon at a time. Season all this with salt and pepper when you've added every bit of the liver and cream mixture to the butter..
Now pour everything into a baking pan and set to let it cool. The best method is to place in the fridge for about 3 hours.
While that's cooling we'll finish the rest of this chicken livers recipe with walnuts:
Chop the nuts into small pieces. Do not cut into very fine pieces!
Roast the nuts, dry, in a pan without any oil or butter over medium heat. Season very lightly with salt.
Spread the nuts evenly over a flat baking sheet.
When the liver mixture has cooled, cut into slices.
Take one of the slices and roll it over the spread out walnuts until it's completely covered. Place on a serving plate or platter.
Repeat until all the slices are covered in walnuts!
Chop the endive (or lettuce) into bite size pieces. Chop the shallots and mix with the endive.
Mix the walnut oil and juice until it's a nice thick consistency and add the sugar, and just a little bit of salt and pepper. Pour this over the endive and shallots.


My Chef's Tips:

Serve this alongside the prepared liver and walnut slices.
You can add some sliced fruit as a nice colorful garnish to liven up this very lovely chicken livers recipe with walnuts dish.
Perfecto!
Return from Chicken Livers Recipe with Walnuts
to Chicken Liver Recipes
Return to Easy Chicken Recipe Ideas