Chicken Fajitas Recipe:
Just Like 'Gramma' Likes!



Whenever I make this pepper and chicken fajitas recipe, I reminded of the summer I spent in the South of France.


---
---

I was often looking after two young boys. But it was because of their wonderful 'Gramma' which brings back lovely memories. She liked salads and sauces, but she liked them fresh - just like I like things!!
This recipe was heavenly when using organic ingredients! And when we made this for the kids, we always had it outdoors because the weather was always perfect.
I love eating outdoors. The food always seems to taste better. Even more so when sharing with other people around, especially people like 'Gramma'!


Ingredients (Serves 6 Fajitas):
12 medium tortillas
1 teaspoon of vegetable oil
500 g of chicken breasts
1 onion
1 small red pepper
1 small green pepper
60 ml of salad dressing
1 teaspoon lemon juice
125 ml salsa
1 tomato
2-3 tablespoons of grated cheddar cheese
2-3 tablespoons of shredded lettuce
1 tablespoon of finely fresh parsley
optional:
15 ml cornstarch
15 ml of cold water


Directions:
Wash the chicken breasts thoroughly. Dry with paper towels.



Cut the chicken into strips for sauteing.
Peel and wash the onion. Cut into slices.



Wash the peppers and cut into thin strips - one to two inches in length.

Wash the tomato. Cut into small cubes.



Add the oil to a large saucepan over medium heat.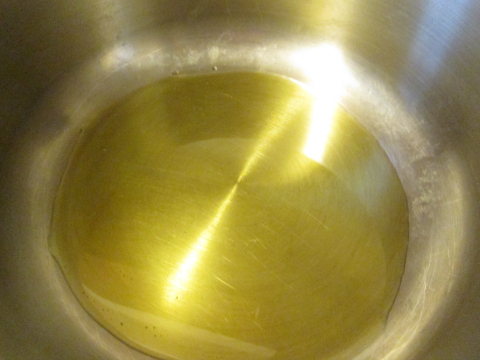 Add the chicken breasts, onion and peppers. Sauté everything until chicken breasts are cooked thoroughly. This should take about 3-5 minutes.
Next, stir in salad dressing, lemon juice, salsa, and the diced tomatoes. Continue to simmer until everything is heated through. This should take about 3 minutes.

If it looks too juicy, thicken it by mixing the cornstarch with the cold water, then add that to the mixture. Stir well, and cook for 2-4 more minutes.



Now we're ready!...


My Chef's Tips:

Divide the filling among the tortillas.



Top with shredded lettuce and cheddar, if desired, parsley and roll.
Whether you have someone like 'Gramma' to share it with or not, I know you'll love this chicken fajita recipe...
Bon appétit!



Return from Pepper and Chicken Fajitas Recipe
to Fried Chicken Recipes
Return to Easy Chicken Recipe Ideas