Chicken Cutlet Recipes
Memories From Home!

Chicken cutlet recipes are one of my childhood souvenirs!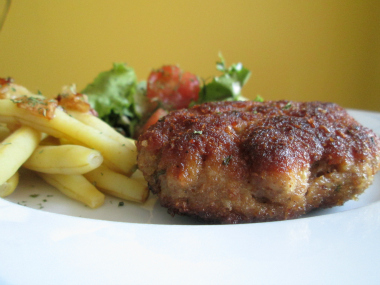 ---
---

I really miss my family back in Poland - many times I wish they were here.
But I daydream back to my childhood days. I think of my Mom making ground chicken cutlet recipes. Since we had our own chickens on the farm, this was not a problem to have this dish often.
It's very easy to make and, oh, so tasty. It really reminds me of home. So I've decide to make some for me and my Chef, and show you how to make it too!
What else I can say? It was a traditional Polish dish at my house and one of my favorites.
It was funny: I called my Mom today and asked her what she made for lunch. She said she made one those ground chicken recipes I loved so much!!!.....
Et voila! So here is the recipe for you. I hope you'll make this for your family and that you'll love it as much as I do!

Ingredients (Serves 3-4 Ground Cutlets):
1 lb. of ground chicken
1 clove of garlic (crushed)
1 egg
parsley (finely chopped)
freshly ground pepper
salt to taste
¼ lb. of bread crumbs
2 tablespoons of milk
1 medium onion
3 tablespoons of oil

Directions:
Place the ground chicken put into a large bowl.
Crack open the egg and add to the chicken.
Chop the onion and add to the chicken and egg mixture.
Next add the crushed garlic, parsley, salt and pepper. Take about HALF of your bread crumbs and add them as well. Now mix all the ingredients together really well to get a smooth texture.
Preheat a frying pan with the oil over low to medium heat.
Moisten your hands with water. This is very important because the ground chicken mixture will not stick to your hands!
Form the ground chicken mixture into small round cutlets about 3 to 4 inches in diameter and about a half inch high.
Coat each cutlet with the remaining bread crumbs and then arrange in the pan.
Sauté all the cutlets thoroughly on both sides for about 7-8 minutes each. Your cutlets should have a nice, dark golden color and be cooked through right to the inside!

Serving Suggestions:
Serve with a fresh garden salad including some lettuce and tomatoes, and freshly steamed yellow beans.

This is so delicious! And it really brings wonderful memories to my table.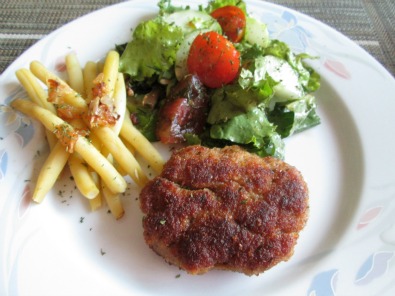 I hope this very favorite of one my chicken cutlet recipes will bring beautiful memories to your table!
From mine to yours!
Monika.
Return from Chicken Cutlet Recipes
to Fried Chicken Recipes

Return to Easy Chicken Recipe Ideas