Super Fun Chicken Balls
And Dipping Sauce!
These chicken balls will be an absolute hit with your kids!
And they go great with my dipping sauce!


---
---

In fact, there's a nice change to this sauce recipe at the bottom of that page.
This recipe is one of the most fun from my boneless chicken breast recipes. Especially if you get your own kids involved to help you make them - right Chef?!
But first!...


Ingredients (Serves 4 little people :)
2 skinless, boneless chicken breasts
3 tablespoons of vegetable oil
1 medium onion
1 chopped celery
1 garlic clove
2 tablespoons light soy sauce
1 egg
1 bunch of green onions
Parsley finely chopped
Salt and pepper to taste


Directions:
Wash the chicken thoroughly and dry with paper towels. Cut the chicken into small pieces. Trim off any excess fat. (Remember this is for our kids!)

Heat half of the oil in a skillet over high heat and sautée the chicken.
When thoroughly done, lift pieces out with a slotted spoon and set chicken aside.
Wash and peel the onion, then chop it. Now add the onion, celery, and crushed garlic to the skillet and sautée for 1-2 minutes until everything is soft.
Place the chicken, onion, celery and garlic in a blender and process until finely ground. Add 1 tablespoon of light soy sauce and egg to make a firm mixture. Season with salt and pepper, and add the parsley.
Trim the green onions and cut into small 5-6 cm lengths.
...Now comes the fun part! This is where you can get your kids to help! :)

Shape the chicken mixture into 15-17 balls - about 2 to 3 cm in diameter. You can get more if you create small ones.
Heat the rest of the oil in skillet and sautée the balls in small batches for 4-5 minutes until they're a lovely golden brown colour.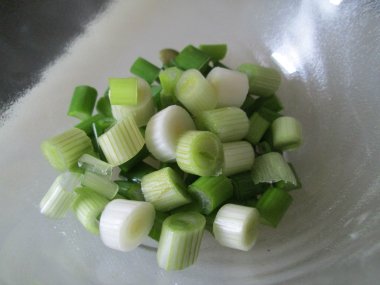 Sautée the green onions for 1-2 minutes until they get soft.
Read on to see why!...

My Chef's Tips:

So what are we doing with these green onions?
These will be added to the dipping sauce here as another nice variation on this recipe!
Serve our chicken balls with carrot and celery sticks. And of course our dipping sauce.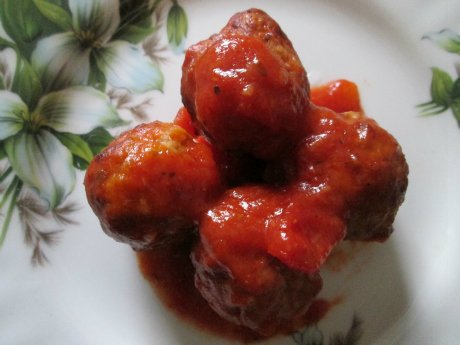 Nice and simple. Just like our kids like!
Right Chef?!!  ;)
Return from Chicken Balls and Dipping Sauce
to Chicken Recipes for Kids

Return to Easy Chicken Recipe Ideas