Blackened Chicken Recipe
with Mizuna Lettuce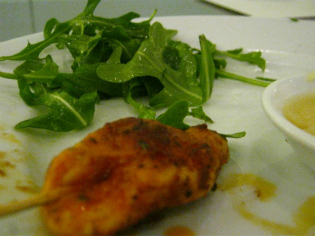 This time I suggest we make blackened chicken recipe with mizuna lettuce salad.
Why am I suggesting this?
---
---
I was at a party recently where they served a chicken finger food. It was wonderful!
It was so delicious and so simple! So I told my Chef we're going to come up with our own version. And he's happy now because after much experimentation I've come up with my own exquisite combination of spices.
This - I promise - will be amazing! And it will quickly disappear from the table. I can see my Chef's mischievous face smiling! Oooh - I think he is planning to eat them all!!
Not this time, Chef! This will be for my guests!!


Ingredients (Serves 4 mizunas):
2 boneless, skinless chicken breasts
1 tablespoon flour
1 tablespoon paprika
¼ teaspoon Vegetta
3-4 tablespoons przyprawa grill ziolowy*
1 tablespoon ground, roasted fennel seeds
1 teaspoon ground, roasted caraway seed
1 tablespoon of olive oil
1 medium mizuna lettuce head - washed and separated.
*This is a special Polish
combination of spices which will
really simplify this recipe and
make it super easy to make! :)

Lemon Butter:

1 cup lemon juice
¼ cup sugar
½ pound butter cubed
1 cup whip cream
Directions:
Place olive oil in a large cooking pan. Preheat over low to medium heat.
Mix all the spices together in a bowl.
Wash the chicken breasts and dry with a paper towel. Cut into small strips.
Place chicken strips into the bowl of spices and toss. Make sure the spices evenly cover the chicken.
Place chicken strips on preheated pan and cook evenly on both sides until the spices have `blackened`. This should take a total of 5-6 minutes.
Next we'll make the lemon butter:
Combine the lemon juice and sugar in a cooking pan. Bring to a boil over high heat.
Make sure sugar has dissolved properly.
Keep boiling until everything has caramelized (become gold coloured). This should take about 2-4 minutes.
Slowly add butter cubes, one at a time. Blend thoroughly before adding the next cube.
When all the butter is added, remove everything from heat and add the whip cream. Stir thoroughly.
If you're not using this right away, store covered in the fridge.


Serving Suggestions:

The mizuna lettuce adds a nice presentation touch and is very healthy, too.
This blackened chicken recipe, along with the lemon butter, as a dipping sauce, is a perfect appetizer for parties.
But watch out your chef doesn't eat it all!
Return from Blackened Chicken Recipe
to Fried Chicken Recipes
Return to Easy Chicken Recipe Ideas