My Best Potato Salad Recipe
With Chicken!

I have for you my best potato salad recipe ever!

It's fast! It's fun!!

And....

It will win your guests over when you serve it at your next outdoor barbecue!!

Why?
---
---
Because of the ingredients we're going to add!
Ingredients will be no problem because they're handy, common items. So this easy potato salad recipe will save you lots of money at well.
At the same time, for me, it brings a lot of memories to my table!
Ah! Life!.....
Back home, whenever we had friends or family visiting, we always made a potato salad recipe with veggies. And, we would serve it with ham. And also some bread....
Mmmm!! So good!
A while back when I was at work, I saw my director, Austin, eating his lunch in the kitchen. I asked him: "What are you eating, Austin?" He said some potato chicken salad. I was surprised!
Why didn't I think of this!
I said to myself it's time to share with my readers my best potato salad recipe.
And...
I'm going to add chicken, of course!! Just like Austin did with his lunch. The chicken makes the salad hearty and filling!
Enjoy!


Ingredients (Serves 2 potatoes):
2 hard boiled eggs
3-4 medium sized potatoes
1 half cube chicken bouillon
3 green onions and onions with chives
1 small celery
4 medium pickles
2 carrots
2-3 tablespoons light mayonnaise
1 clove of garlic, chopped
1 tablespoon of fresh chopped parsley
Salt and pepper to taste

Directions:
Peel potatoes. Fill a pot with 4-6 cups of water and add the half bouillon cube. Add the potatoes and bring to a boil over high heat. Continue boiling over medium heat for another 10-15 minutes.
After the potatoes are done, drain the water and let them cool.
Cut the cooked chicken breast into cubes. Do the same with the potatoes after they've cooled. Likewise with the eggs after you've peeled the shell.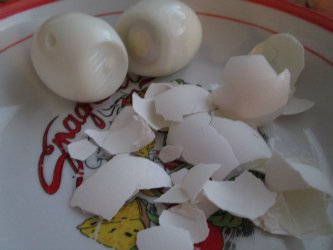 Next, chop the green onions with the greens.
Then, slice the celery.
Cube the pickles.
Wash and peel the carrots. Then grate them into a large salad bowl.
Add all the ingredients into the bowl with the grated carrots. Add the mayonnaise and the chopped garlic. Season everything with a little salt and pepper.
Mix all thoroughly and gently.
Sprinkle with the fresh parsley. This will add to the taste and it makes the dish look more appetising - not that it will need much help!!!...
Let stand for 10 minutes to let all the ingredients "mix".
Wasn't that easy?


Serving Suggestions:
My best potato salad recipe is so filling, you can even serve it as a dish on its own!
But...



You can always serve it with some bread or bagels. Any way you like!
Me? I might have with just a little vino.
Your guests are going to be impressed!


Return from My Best Potato Salad Recipe
to Quick Easy Chicken Recipes

Return to Easy Chicken Recipe Ideas